Moules frites
Mussels cooked in fennel-white wine juice, served with fresh potato fries
---
---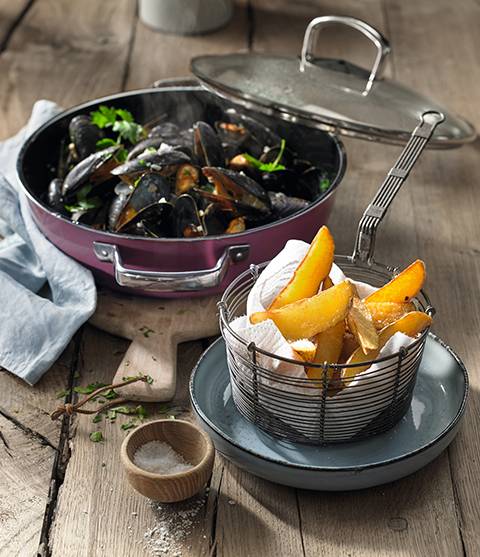 For the mussels:

2 kg mussels
2 shallots
4 garlic cloves
1 tbsp. fennel seeds
1 fennel (with greens)
1 tbsp. butter
200 ml white wine
400 ml fish stock
1 bunch of parsley
1 organic lemon



For the fries:

1 kg of (preferably) waxy potatoes
2 l oil for frying
Sea salt
---
Preparation
For the french fries, wash the potatoes thoroughly and cut into thick batons with the skin on. Dry thoroughly between layers of kitchen roll. Wash the mussels in cold, still water. If necessary, clean and sort out any open mussels. Peel the shallots and garlic, clean the fennel and place the green from the fennel to the side. Dice the vegetables and saute with butter at a medium heat using the Fusiontec stewing pan 28 cm. Douse with the white wine and stock and bring to boil. Chop the parsley with the fine stems and place half into the broth. Grate the lemon rind and squeeze out the juice. Season the broth with lemon juice, salt and pepper. Finally, add the mussels and cook/steam at a mild heat for approx. 15 minutes, covered. Stir or shake the Fusiontec stewing pan 28 cm occasionally throughout.

For the french fries, heat up the oil in the Fusiontec Mineral high casserole 24 cm to 120 °C and add the potatoes in portions to pre-fry for approx. 8 minutes without taking on colour. Remove the fries and drain on kitchen roll.

Now heat the oil to 175 °C and place the pre-fried potatoes back into the oil, by portion, and fry until crispy and golden brown. Remove, drain on kitchen roll and season with sea salt.

To serve, fill the mussels into bowls with a little broth and pick out any closed mussels! Sprinkle with the rest of the parsley, a little fennel green and lemon rind. Serve the french fries on the side.
---