North African stew
A hearty hot pot with veal, sweet potato, dried plums, various herbs and coconut milk.
---
---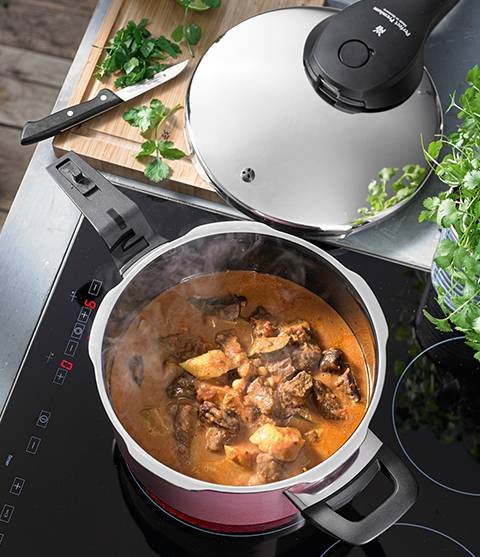 Ingredients
1 onion
3 garlic cloves
50 g fresh ginger
30 g turmeric, fresh
3 tbsp. oil
500 g veal goulash
Salt, pepper
1 tsp. ground cumin
1 tsp. ground cinnamon
1/2 tsp. ground chili
1 tsp. ground coriander
400 ml coconut milk
800 g chopped tomatoes (from can)
1 sweet potato
1 courgette
400 g chick peas (from can)
100 g dried plums
1/2 bunch of fresh coriander
---
Preparation
Peel and finely dice the onion, garlic, ginger and turmeric. Heat up the oil in the Fusiontec pressure cooker Perfect Premium 4.5 l, add the meat and sear, stirring occasionally, until all of the liquid has turned to steam and everything has browned. Season heavily with salt and pepper throughout.

Remove the meat from the Fusiontec pressure cooker Perfect Premium 4,5 l, place the onion, garlic, ginger and turmeric into the oil and roast at medium heat. Sprinkle with the ground spices, pour over the coconut milk and tomatoes, re-add the meat and cook under pressure for 30–40 minutes.

Meanwhile, peel the sweet potato, wash and clean the courgette and dice both into large chunks. Pour the chickpeas into a sieve and rinse. Slice the plums into quarters.

At the end of the cooking time, steam off the Fusiontec pressure cooker and open carefully. Add the vegetables and plums and simmer for a further 15-20 minutes, uncovered, until the vegetables are cooked and the liquid is creamy. Season with honey, lemon juice and salt.

Remove the coriander leaves from the stems and mix them in.

Serve the stew with rice or couscous.
Preparation time
2 hours, incl. cooking time
---