Product details
Highlights
Material: Cromargan protect Edelstahl rostfrei
Formstabil, hygienisch, säurefest, unverwüstlich und kratzbeständig
Extrem kratzresistent: jahrelang wie neu, keinerlei Gebrauchsspuren auch bei intensivem Alltagsgebrauch
Patentiertes, WMF-exklusives Verfahren zur Stärkung der Widerstandsfähigkeit gegen Gebrauchsspuren
Die Messer haben eine eingesetzte Klinge aus geschmiedetem, speziell gehärtetem Spezialklingenstahl für langanhaltende Schärfe und Elastizität
Product description
Ganz klar: Dieses Set ist für die große Tafel gedacht. Es bietet Besteck für zwölf Personen – Menügabel, -messer und -löffel sowie Kuchengabel und Kaffeelöffel – und darüber hinaus ein zweiteiliges Salatbesteck, einen Servierlöffel und eine Serviergabel, einen Schöpflöffel sowie einen Tortenheber. Das Set wird Ihnen dank seiner Hochwertigkeit ein gleichermaßen schöner wie dauerhafter Begleiter sein, denn WMF Cromargan Protect Besteck ist extrem kratzresistent, bleibt jahrelang wie neu und weist auch bei intensivem Alltagsgebrauch keinerlei Gebrauchsspuren auf. Zusätzlich sind alle Produkte spülmaschinengeeignet. Das klassische, zeitlose Set kommt nie aus der Mode und eignet sich deshalb sowohl für moderne, als auch traditionelle Tischwelten. Ein besonderer Hingucker sind die Griffenden, die an einen schimmernden Diamanten erinnern.
Ein wenig Glamour gefällig? Die Designerin Jette Joop hat für WMF ein Besteck entworfen, das diesem Wunsch entspricht. Und das auf ganz besondere Weise, denn die plastisch herausgearbeiteten Facetten am Stielende erinnern an die Form eines Edelsteins. Die Grundform des Modells ist klassisch, Proportionen und Länge entsprechen dem modernen Zeitgeist. Hochwertige Messer mit eingesetzter geschmiedeter Klinge gewährleisten eine langanhaltende Schneidfähigkeit, und die Veredelung mit poliertem Cromargan protect verleiht dem Besteck seine extreme Kratzbeständigkeit. Vor allem an festlich gedeckten Tafeln hat das Besteck seinen Platz – gut, dass Sie von diesem Modell eine Vielzahl an Ergänzungsteilen erhalten.
Specifications
SKU:
12.7400.6341
EAN
4000530687739
Brand
WMF
Collection
Jette
Size sets
66-pcs.
Scope of delivery
12x Menülöffel
12x Menügabel
12x Tafelmesser
12x Kaffeelöffel
12x Kuchengabeln
1x Schöpflöffel
2x Servierlöffel
1x Salatgabel
1x Serviergabel
1x Tortenheber
Material
Cromargan protect
Material property
polished
Product properties
Easy to clean and care for, serrated knife
Production
Engineered in Germany
Knife art
knife with inserted, forged blade
Gross weight (g)
5000
Color
stainless steel
Care
Dishwasher safe
Designer
Jette Joop
Cromargan protect
WMF Cromargan® Protect Technology
Cutlery that always looks as good as new even after years of use – no longer just wishful thinking but now a reality. WMF Cromargan protect means the surface of the cutlery items always looks flawless. The passing of time hardly leaves a trace, even after extended use.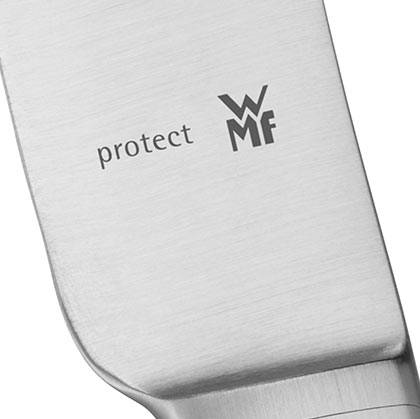 When WMF was the first company to use stainless steel for the manufacturing of cutlery and household appliances more than 80 years ago, this marked the start of one of the most progressive chapters in the history of cooking and housekeeping. The material, which is known by the name Cromargan®, cannot tarnish, is rustproof, acid-resistant, unbreakable, easy to clean and so is extremely durable.
150 years after its first cutlery model was launched onto the market, in 2009 WMF introduced cutlery finished with Cromargan protect. Cromargan protect is produced using a thermochemical treatment process. This involves adding nitrogen to stainless steel at high temperatures, which penetrates into the material and results in a much harder surface after it cools down. This makes the material extremely resistant against signs of wear, and means it still looks as good as new even after years of use. Even intensive use and frequent cleaning in the dishwasher has no adverse effects. Polished surfaces never lose their shine, and matt surfaces stay matt. A brilliant innovation, which is patented and internationally protected by the WMF brand.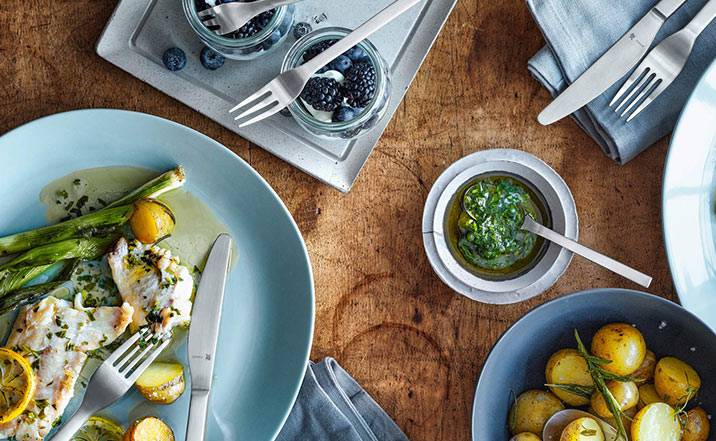 Your cutlery stays looking as beautiful as on the day you bought it.
Extremely resistant to scratches and signs of wear and tear

Polished surfaces stay shiny, matt finishes stay matt.

Knife blades made of high-grade special blade stay sharp for longer

Rustproff and dishwasher safe.

Unique WMF design that gives you pleasure every day.
View Reviews (0)

Your review