Oriental fattoush salad with crispy croutons
---
---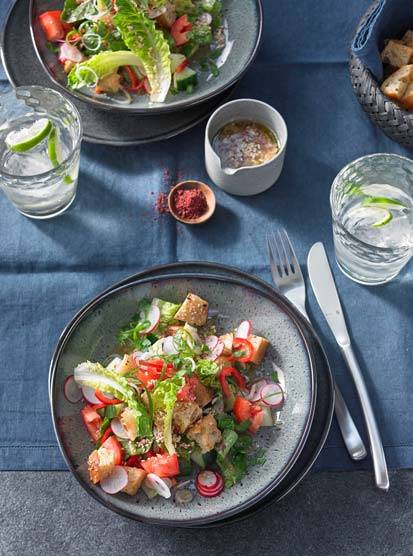 For the croutons:
200 g flat bread or pitta bread
60 ml olive oil
Salt



For the salad:

200 g romaine lettuce
100 g purslane
300 g plum tomatoes
1 cucumber
1 pointed pepper
6 radishes
4 thin spring onions
½ bunch each of peppermint and parsley
For the dressing:
1 lemon, untreated
1 fresh garlic clove oil
1.5 tbsp. sumac
80 ml olive oil
---
Preparation
For the croutons, preheat the oven to 200°C (190°C fan-assisted oven) and place on a tray lined with baking paper. Roughly dice the flat bread and spread it on the baking tray, then sprinkle with olive oil and salt. Bake the diced bread for approx. 10 minutes in the oven on the middle shelf until crispy.
Clean the romaine lettuce, cut/pull into bite-sized pieces, wash it together with the purslane and spin dry. Wash the tomatoes, peel and core the cucumber, then dice them both. Wash the peppers, remove the stalk and seeds and dice evenly. Clean, wash and finely slice the radishes and spring onions. Pluck the herbs off the stems and chop finely.
For the dressing, wash the lemon in hot water and dry it. Finely grate the peel and squeeze out the juice. Peel the garlic and chop finely. Mix together 40 ml lemon juice, the lemon zest, garlic, sumac and a little salt, then gradually add the olive oil.
Then season again with lemon juice and salt. Shortly before serving, marinate the salad ingredients and serve immediately with the croutons.
Preparation time
0.75 hour
---