Panini with chicken breast and pineapple
---
---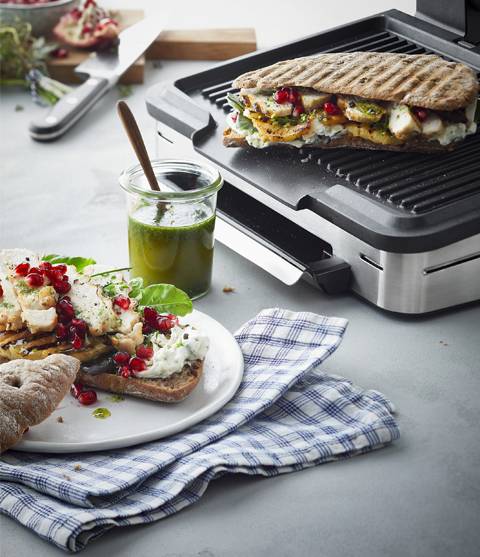 Ingredients:
4 panini bread rolls
2 chicken breasts, 300 g each
8 thin slices of fresh pineapple
Lettuce (e.g. iceberg, head lettuce and romaine lettuce)
1 pomegranate
150 g cream cheese
Chopped fresh herbs(e.g. chive, parsley, basil and dill)
Olive oil
Salt
Pepper
---
Preparation
After preheating the WMF ProfiPlus Contact grill, select the "Poultry" program, place both chicken breasts on the grill plate and grill them until the beeping sound is emitted for the "done" level and the LED lights up white.

Then select the "Manual" program for the pineapple slices, place them on the grill plates and grill them until they turn an appetizing color.

Meanwhile, mix the cream cheese together with the chopped herbs, a dash of olive oil, salt and pepper, then spread this creamy mixture on the panini bread and top with lettuce. Now distribute the grilled pineapple slices and the strips of chicken breast on top of the lettuce, sprinkle with pomegranate seeds and close with the other half of the panini bread roll. Then select the "Panini" program and grill the closed panini bread roll.

Those who like things a little spicier can spread chili and tomato relish from the burger recipe mentioned below on the other half of the panini bread.
Preparation time
30 minutes
---