Pelmeni (Dumplings) with prawn and chicken fillings
---
---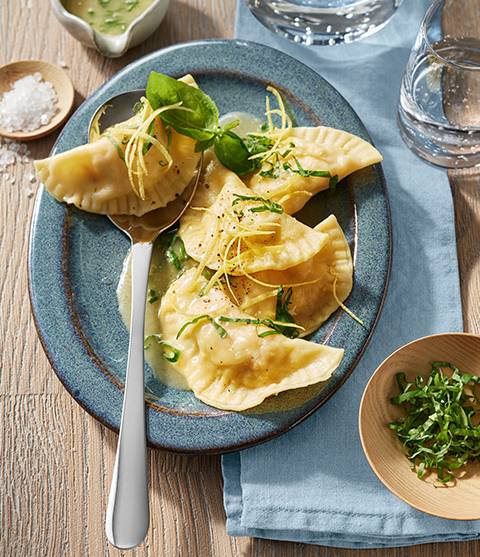 For the dough:

250 g flour
Salt
2 eggs
Approx. 75 ml milk
1 egg white



For the filling:

250 g chicken meat off the leg, skinless (equivalent of approx. 1 leg)
Salt, freshly-ground pepper
1 onion
1 garlic clove
½ organic lemon
1 small piece of fresh ginger
125 g raw, peeled prawns



Plus:

1 bay leaf
100 g butter
1 pinch sugar
½ bunch basil
---
Preparation
Knead the flour, 1 tsp. of salt, eggs and milk to form a smooth and even pasta dough. Form into a ball, cover with foil and leave to rest for about 20 minutes.

For the filling: rinse the meat in cold water and thoroughly pat it dry. Remove any tendons from the meat. Cut the chicken meat into long strips. Season the meat with salt and pepper. Peel the onion and garlic, roughly dice and mix in. Allow everything to cool well at approx. 3 to 1°C for about 20–30 minutes. Wash the lemon in hot water, rub it dry and finely grate some of the peel. Peel the ginger. Mince the prepared meat mixture and grated ginger through the medium-sized grate (4 mm) of the mincer into a bowl on speed setting 2. Then mince the prawns through the mincer on speed setting 1. Season with salt, pepper and lemon zest and knead thoroughly. Refrigerate again for approx. 10 minutes until you need to use it again.

Knead the dough well. Sprinkle a little flour on the work surface and roll out very thin in portions. Cut out circles using a round cookie cutter (approx. Ø 8 cm). Spread the edges of the dough circles with a little beaten egg white. Place a piece of filling about the size of a hazelnut in the middle of each circle and fold the dough into a semi-circle. Press the edges of the dough firmly together. Fold the corners over so they slightly overlap and press down firmly. Roll the edge of the dough outwards a little. Dust a baking tray with a little flour and place the dumplings on it next to each other.

In a large pot, boil plenty of salted water together with the bay leaf. Cook the dumplings in portions in simmering water for about 5 minutes. Meanwhile, juice the lemon. Melt the butter in a large frying pan. Add the lemon juice and sugar and stir. Rinse the basil, shake it dry, pluck and finely chop the leaves. Mix the basil into the butter. Lift the dumplings out of the water with a skimmer, drain them briefly and place them in a pre-heated bowl. Drizzle the lemon and basil butter over the lemon, mix in carefully and serve immediately.
---