Braised pepper halves
---
---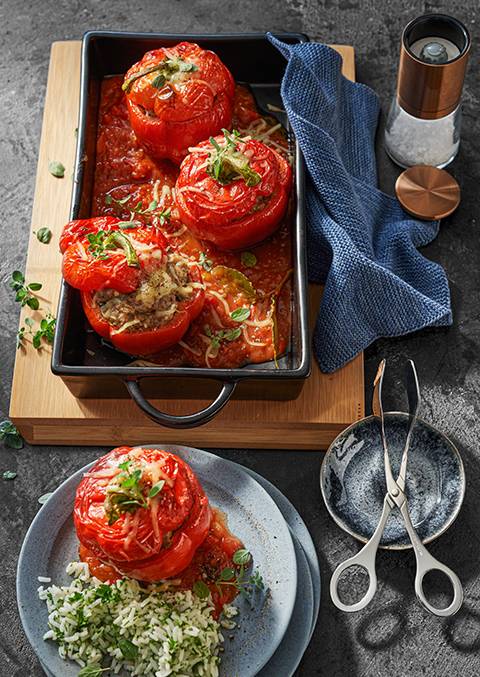 Ingredients

600 g of well marbled pork for mincing (e.g. neck, shoulder, thick rib)
2 tbsp. dried porcini mushrooms
1 stale bread roll
2 onions
2 garlic clovesv
150 gv cooked, smoked ham in one piece
4 tbsp. pickled green peppercorns
350 g long grain rice
Salt, freshly-ground pepper
1 tbsp. dried marjoram
4 red peppers
3 tbsp. olive oil
50 ml dry white wine
1 bay leaf
350 ml vegetable stock
200 g tomatoes (in pieces, canned)
2 tbsp. butter
1 bunch of mixed herbs (e.g. basil, dill, parsley, chervil, thyme)
100 g grated cheese (e.g. Gouda, mozzarella)
A little starch for binding, if required
---
Preparation
Remove the cold meat out of the fridge. Put the porcini mushrooms in a small bowl, add 100 ml of boiling water and leave to stand. Meanwhile, cut the bread roll into large cubes. Peel the onions and garlic, and cut into large cubes. Cut the ham into large pieces.

Drain the mushrooms through a fine sieve and collect the water used for soaking. Mince the meat, ham, bread, mushrooms, 2 tbsp. peppercorns, half of the onions and half of the garlic through the medium-sized grate (4 mm) of the mincer on speed setting 2. Place the minced meat in a bowl. Knead in the mushroom water, 3 tbsp. rice and the rest of the peppercorns thoroughly until the meat is bound. Season generously with salt, pepper and marjoram.

Either cut a lid off the peppers or cut the peppers in half horizontally. Trim, wash and drain the peppers. Fill the peppers with the minced meat mixture, pressing it in well.

Preheat the oven to 180°C top/bottom heat. Heat the oil in a roasting pan or large ovenproof stew pot. Roast the peppers until golden brown all over. Remove from the roasting pan, set aside for a moment. Finely chop the remaining onions and garlic and sauté them in the cooking fat. Deglaze with wine and boil down completely. Stir in the bay leaf, stock and tomatoes, then bring to the boil. Season with salt and pepper. Add the peppers with the filling facing upwards. Cover the roasting pan and braise the peppers in the preheated oven for about 35 minutes. In the meantime, cook the remaining rice in salted water according to the instructions on the packet. Rinse the herbs, shake dry, pluck and chop.

After 35 minutes of braising time, remove the lid from the roasting pan, sprinkle the peppers with cheese and cook with the lid off for another 10 minutes or so. Drain the rice and leave to drain. Melt the butter in a pot, add the rice and herbs, mix everything together, keep the mixture warm. Lift the peppers out of the roasting pan, keep them warm for a little while. Boil down the stew stock on the hob, thicken it as desired by stirring in a little starch. Put the peppers back in, let them simmer for a little while. Arrange the peppers, herb rice and sauce.
---