Plum jam pockets with cinnamon crumble
Potato dough with a plum filling, fried in butter and served with a sweet cinnamon breadcrumb.
---
---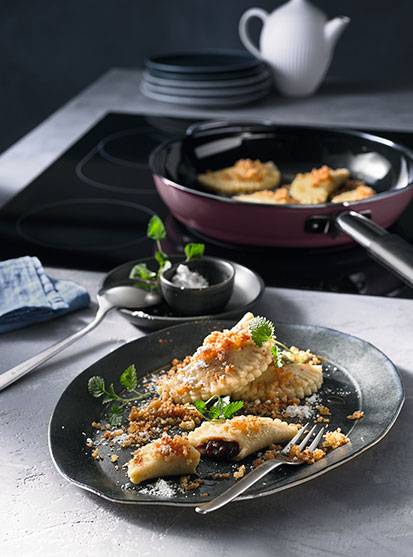 For the potato dough:
Approx. 300 g floury, jacket potatoes
Salt
2 egg yolks, class M
30 g soft wheat semolina
50 g flour, type 405
1/4 tsp. nutmeg
For the filling:
175 g plum jam (chunky plum mousse, e.g. from Staud)
10–20 ml plum brandy
For the cinnamon crumble:
50 g butter
100 g breadcrumbs (preferably from a bakery)
2 tbsp. fine sugar
1 tsp. ground cinnamon
For the cinnamon crumble:
---
Preparation
Peel the potatoes and press into a mixing bowl through a potato ricer. Knead into a smooth doughwith a pinch of salt, 1 egg yolk, semolina, flour and nutmeg. Stir the plum jam and brandy together until smooth.
Roll out the potato dough approx. 1/2 cm thick onto a flour-coated worktop and cut out 12 circles (each with a diameter of 8 cm). Stir the rest of the egg yolk with 1 tbsp. water. Place a little plum jam in the centre of each dough circle, daub the edges with a little egg yolk and then fold into semicircles. Press the edges firmly!
Bring plenty of slightly-salted water to boil in the Fusiontec Mineral low casserole 20 cm. Place the jam pockets inside, remove the pot from the stove and leave the pockets to steep for a good 5 minutes.
Meanwhile, melt the butter in the Fusiontec frying oan 20cm. Add the breadcrumbs, sugar and cinnamon, stir fry until golden brown and then remove from the stove.
Remove the plum jam pockets from the water using a skimmer, drain slightly, coat in the breadcrumb mix and then plate up.
Serve with a sprinkle of icing sugar.
It tastes very well with vanilla ice cream.
Preparation time
1 hour
---