Pointed cabbage rolls with hazelnut-cheese filling
---
---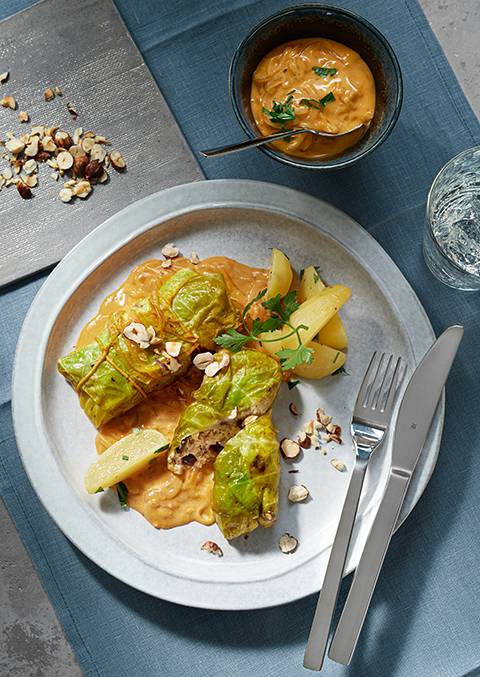 Ingredients:

2 tbsp. butter
1 tbsp. flour
100 ml milk
450 ml vegetable broth
2 bay leaves
1 large, pointed cabbage (approx. 2 kg)
2 garlic cloves· 6 tbsp. hazelnut kernels
3 onions
4 tbsp. butter
A little olive oil
Salt, freshly-ground pepper
Freshly grated nutmeg
150 g aromatic soft cheese (e.g. Taleggio, creamy Feta or fresh goat's cheese)
2 egg yolks
2 tbsp. bulgur wheat (coarse wheat groats)
3 tbsp. dried cranberries
1 tsp. tomato paste
150 ml dry white wine
2 tsp. starch
2 tbsp. crème fraîche



Plus:

Kitchen string
---
Preparation
Melt 2 tbsp. of butter in a pot, sauté the flour in it, deglaze with milk and 100 ml of stock while stirring. Add a bay leaf and simmer everything briefly. Then put it in a bowl and leave it to cool down a little. Meanwhile, remove any unsightly outer leaves from the pointed cabbage and blanch the cabbage briefly in boiling water until the leaves can be removed whole without damaging them. Remove 12 to 16 leaves and repeat the blanching process ifnecessary. Quench the removed leaves in cold water and leave them to drain. Cut the thick leaf veins flat.

Cut the remaining cabbage into strips. Peel the garlic. Chop 3 tbsp. of hazelnuts, minze the cabbage strips and garlic through the coarse grate (7 mm) of the mincer on speed setting 3. Peel the onions and cut into fine strips. Heat 1 tbsp. of butter and 1 tbsp. of oil in a frying pan. Fry half of the onion strips in it then put to one side. Add a further 2 tbsp. of oil to the frying pan and fry the cabbage-nut mixture briefly over a high heat while turning. Season with salt, pepper and nutmeg. Pour into a bowl and leave it to cool down.

Cut the cheese into pieces. Roughly chop the remaining hazelnuts. Stir the egg yolks into the cooled-down sauce. Mix in the fried cabbage, nuts, bulgur, cranberries and cheese. Spread 2 prepared cabbage leaves on a work surface, slightly overlapping each other. Distribute the filling on top of them. Fold the sides of the cabbageleaves slightly over the filling and roll the cabbage into roulades. Use kitchen string to fix them in place.

Heat the remaining oil and butter in a stew pot. Brown the remaining sliced onion in it, add the tomato paste and fry briefly. Deglaze with 100 ml of wine and boil down completely. Then add the remaining wine and stock and bring to the boil. Season with salt, pepper and the other bay leaf. Insert the cabbage rolls and braise gently for about 30 minutes over a low to medium heat.

Lift the roulades out of the stew stock and keep them warm. Vigorously reduce the stock and bind with the stirred-in starch. Stir in the crème fraîche, season to taste. Put the roulades back in the sauce and let them cook for a short while. Arrange the roulades and the sauce. Serve with tagliatelle or boiled potatoes as desired.
Preparation time
90 minutes
---