Potato quark dumplings with tipsy apricot in cinnamon crumbs
---
---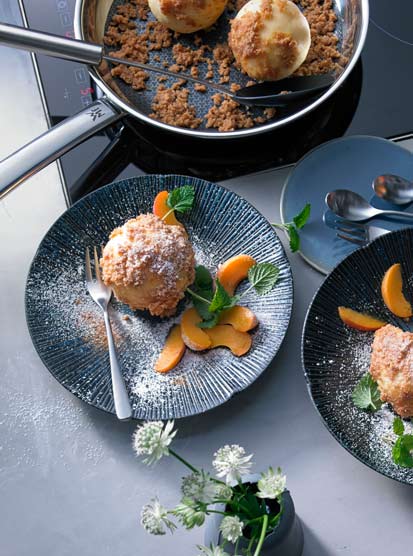 For the dumplings:
400 g potatoes, floury
250 g creamy quark (curd cheese)
8 small ripe apricots
100 ml apricot brandy
1 lemon, untreated
35 g wheat flour, type 405
30 g hard wheat semolina
240 g g sugar
1 egg (L)
1 knife tip of salt
For the crumbs:
100 g brioche, alternatively toast bread or milk roll
80 g butter
10 g icing sugar
1 tsp. cinnamon powder
1 knife tip of ground cardamom
---
Preparation
The day before, wash the potatoes for the dumplings and cook them in boiling salted water until soft, then drain and let them cool completely. Suspend the quark in a clean paper towel and let it drain. Wash, halve and destone the apricots. Heat the apricot brandy in a small frying pan and place the apricot halves with the cut surface facing downwards. Remove the frying pan from the heat, cover and let the apricots cool down.
The next day, wash the lemon in hot water, then dry and finely grate the peel. Peel the potatoes and crush them using a potato-masher. Knead 350 g of potato mash with 170 g dry quark, lemon zest, flour, semolina and 40 g sugar to form a smooth dough. Whisk the egg with the salt and finally fold in.
In the meantime, boil about 3 litres of water with the remaining sugar. Divide the potato mixture into 8 portions: With dry hands, form 8 dumplings, each with a reassembled apricot as the filling. Place the dumplings in boiling water and let them simmer for 15 minutes (do not boil!).
Meanwhile, grind the brioche finely in a food processor, then fry in butter in a frying pan over a medium heat until golden brown, stirring continuously, and mix with the icing sugar, cinnamon and cardamom. Roll the dumplings in the crumbs and serve hot.
Preparation time
1 hour
---