Product details
Highlights
Content: Pan Ø 16 cm (approx. 1.7l) - optimal for stovetops with Ø 14.5 cm, Height: 8 cm - item number: 0776166380
Wide pouring edge for drip-free pouring. Patented Cool+ technology: Effectively reduces the heat transfer from the pot to the handle. Steam opening in the lid - prevents accumulation of calcium, uncontrolled steam emergence and water splashing onto the stove.
WMF pots are suitable for all stove types, including induction. TransTherm-Allherdboden: Patented floor construction with even heat distribution and extended heat storage for energy efficient cooking.
Material: Cromargan Stainless steel rust-free 18/10 - dishwasher safe, easy to clean, oven safe, tasteless and acid resistant.
Developed in Germany.
Product description
The word saucepan is derived from 'casse', the Old French term for ladle – as such, the handy pan was used for example in field kitchens. These pans are ideal for heating small portions, milk and soup quickly and easily. They are also practical for making creams and puddings. While using one hand to hold the hollow handle – which incidentally stays cool when cooking – the other can be used to whisk. Saucepans are ideal for reducing sauces on a low heat and for measured pouring via the flared pouring rim without making a mess on the plate. Made from high-grade stainless steel, food remnants can easily be removed from the bottom of the pan should anything burn or stick. Naturally, all WMF saucepans can be cleaned in the dishwasher and are suitable for use on all hobs, including induction. Bulbous or straight-sided saucepans are available with or without lid in sizes ranging from 10 to 24 centimetres in diameter.
The elegant design of the Quality One series is the result of one man and his idea to convey the harmonious lines and clear shape of the pans through their outstanding functionality. Peter Ramminger aspires to create products that simplify cooking and improve everyday life in the kitchen. Visually, the pans cut a fine figure with their bulbous shape, curved handles and domed lid. They also excel in terms of craftsmanship. The stainless steel handles stay cool thanks to patented Cool+ technology – instantly recognisable by the bright red dots. Other beneficial features include an insertable lid made of high-quality, heat-resistant glass, which sits firmly in the pot and releases steam through three small vents. A wide pouring rim also ensures the drip-free pouring of liquids. The TransTherm universal base is suitable for use on all hobs, including induction, and the rust-free Cromargan pans can be cleaned in the dishwasher. The series includes a deep stockpot, which is perfect for soups, stews and spaghetti, deep and shallow casserole pans as well as saucepans in various sizes.
Specifications
| | |
| --- | --- |
| SKU: | 07.7616.6380 |
| EAN | 4000530646675 |
| Brand | WMF |
| Collection | Quality One |
| Size sets | 1-pc. |
| Scope of delivery | lid |
| Material | Cromargan® 18/10 stainless steel |
| Material property | polished |
| Product properties | Wide pouring rim for drip-free pouring., cool+ technology, Steam vent with lid |
| Induction-compatible | Induction-compatible |
| Stove type | suitable for glass-ceramic, gas, electric and induction stoves |
| Temperature resistance | ovenproof |
| Heat resistant up to | Heat resistant up to 130°C |
| Lid Type | Glass lid |
| Height (cm) | 8 |
| Diameter (cm) | 16 |
| Hotplate diameter (cm) | 14.5 |
| Capacity (in l) | 1.7 |
| Color | stainless steel |
| Care | Dishwasher safe |
| Designer | WMF Atelier (Peter Ramminger) |
cool+ technology
WMF Cool+ Technology
No more pot holders! WMF pots with Cool + technology ensure a relaxed cooking experience.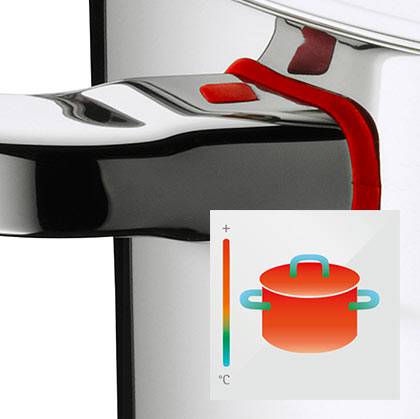 WMF has been manufacturing cookware with a unique form of handle technology since 2010. Its name is Cool+ and it effectively reduces heat conduction between the pan and the handle. This means that during cooking the handles do not become hot. A persuasive safety argument and a cool solution when heat is emanating from the hob.
The Cool+ technology can be recognised by the bright red "dots" on the handles. This handle technology has been patented and exceeds the requirements of DIN EN 12983-1.
.
The handles don´t heat up, even if your passion for cooking is burning.
The innovative technology reduces heat conduction between the pot and the handles.

The handles therefore don´t heat up during cooking

Cool+ pots are easily recognisable by their bright red dots.+

Patented technology exclusive to WMF.
View Reviews (0)

Your review