Poultry steaklets in a cream sauce
---
---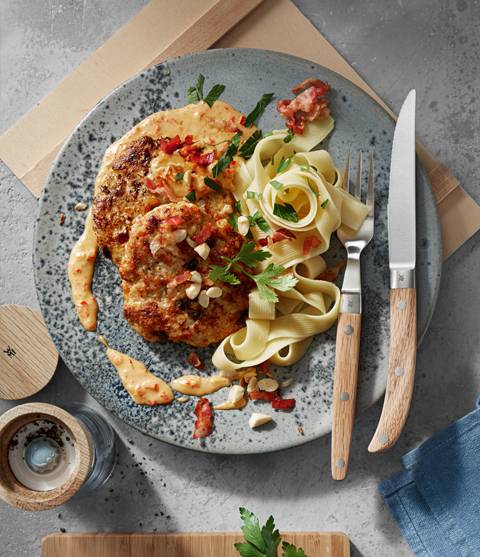 For the poultry steaklets
600 g chicken or turkey meat (e.g. off the leg)
100 g fat bacon
3 tbsp. basmati rice
2 garlic cloves
2 onions
Salt
Freshly-ground pepper
1 egg
Curry powder
3 tbsp. dried cranberries
A little oil for frying
A little flour for turning



For the cream sauce

50 g bacon (breakfast bacon)
3 tbsp. chopped almonds
1 red pepper
1 garlic clove
1 onion
250 ml cream
Salt, freshly-ground pepper
1 bunch of flat-leaf parsley
---
Preparation
Wash the meat in cold water, thoroughly pat dry and cut into wide strips. Cut the bacon into strips as well, mix both together thoroughly then cool to about 3 to 1°C.

In the meantime, wash the rice, cover it with lukewarm water and let it stand for about 10 minutes until it is ready to be used.

Peel and roughly chop the garlic and onions. Mix the meat, bacon, onions and garlic and season with salt and pepper.Mince through the medium-sized grate (4 mm) of the mincer into a bowl on speed setting 2.

Allow the rice to drain. Thoroughly knead the rice and egg into the minced mixture until the mixture binds. Season generously with salt, pepper and curry powder. Roughly chop the cranberries and knead them in. With slightly moistened hands, form approx. 8 flat steaklets from the mixture. Leave in a cool place for about 20 minutes until it is time to fry them.

For the sauce: cut the bacon into fine strips. Toast the almonds in a frying pan without any fat, then place on a plate. Fry the bacon in the frying pan until crispy, then drain on paper towel. Peel the garlic and onion and chop finely. Trim, wash and dice the pepper. Sauté the garlic, onions and pepper in the bacon fat, then season. Deglaze with cream, cover and cook gently until soft.

Heat a little oil in another frying pan. Dust the steaklets with a little flour and fry in hot oil on both sides until golden brown.

Put about half of the pepper and cream mixture into a tall blender jug and purée it. Then pour it back into the frying pan and mix everything together, and season with salt and pepper to taste. Place the steaklets in the frying pan, cover and allow everything to simmer over a low heat.

Wash, shake dry and chop the parsley. Arrange the steaklets on plates. Sprinkle with parsley, bacon and almonds. The steaklets go well with pasta, for example.
Preparation time
60 minutes
---