Pumpkin tarte flambee
Tarte flambee with creme fraiche, sliced pumpkin, gorgonzola and walnuts
---
---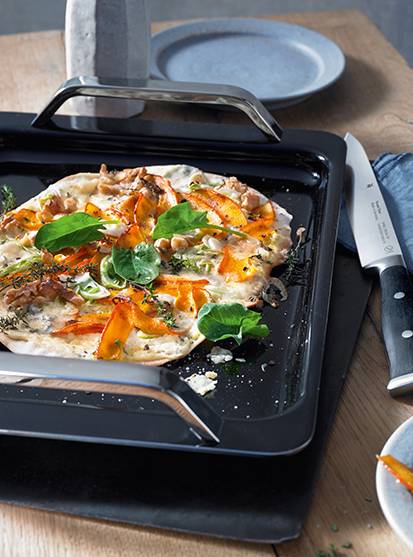 For the dough:
250 g flour, type 550
Salt
15 g fresh yeast
1 tsp. sugar
For the topping:
1 garlic clove
8 sprigs of thyme
500 g creme fraiche
Pepper
1/2 Hokkaido pumpkin
1 bunch of spring onions
100 g baby spinach
100 g walnuts
200 g gorgonzola
4 tbsp. honey
---
Preparation
For the dough, mix the flour and 1.5 tsp. salt in a stirring bowl. Dissolve the yeast with the sugar in 125ml lukewarm water, add to the dough and knead into a smooth dough for approx. 5 minutes using the dough hook on a food processor. Form into a ball, cover with a damp kitchen towel and leave to rise somewhere warm for 1 hour.
Meanwhile, for the topping, peel the garlic clove and chop very finely. Remove the thyme leaves from the stems, mix the garlic and thyme with creme fraiche and a little salt and pepper. Wash the pumpkin, remove the seeds and cut into wafer-thin slices. Wash and clean the spring onions then cut diagonally into thin rings. Wash the baby spinach and shake dry, chop the walnuts into rough chunks.
Pre-heat the oven or grill to 250 °C top/bottom heat. Heat up the Fusiontec Teppanyaki at the same time!
Knead the dough again and divide into 4 equal portions. Roll out each portion thinly onto a flourcoated surface and place onto 1/2 sheet of baking paper. Coat the top of each dough portion with 1/4 creme fraiche and sprinkle with pumpkin slices, spring onion and walnuts. Lightly season with salt and pepper and then crumble the gorgonzola on top. Place the doughs one by one (on baking paper if desired) on the hot Fusiontec Teppanyaki and bake indirectly on the grill or on the lower shelf of the oven for 5–10 minutes until crispy.
Remove and place the finished tarte flambees on a serving board. Top with baby spinach and, if desired, drizzle with a little honey.
Preparation time
2 hours, incl. rising and baking times
---