Ragù alla Bolognese
---
---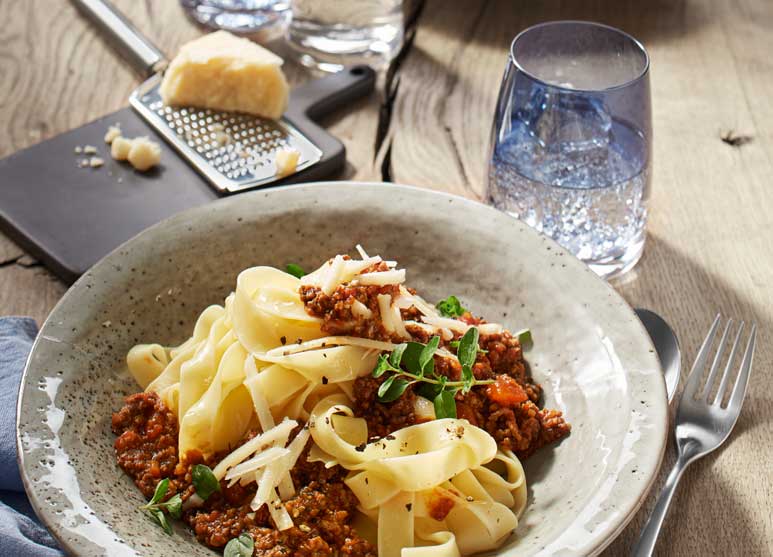 Ingredients:

1 kg well marbled beef for mincing (e.g. from the neck)
150 g streaky, smoked bacon
1 bunch of soup vegetables
3 onions
2 garlic cloves
5 tbsp. rapeseed oil
3 tbsp. tomato purée
2 bay leaves
2 cloves
2 allspice
200 ml dry red wine
50 ml medium dry sherry
850 g chopped tomatoes (tin)
Sea salt, ground pepper
1 tsp. brown sugar
2 tsp. dried oregano
Approx. 100 ml vegetable broth, if required
750 g tagliatelle
75 g piece of Parmesan cheese
---
Preparation
Wash the meat in cold water, thoroughly pat dry and cut into rough cubes. Dice the bacon roughly as well and cool both to about 3°C for about 20–30 minutes.

Trim the soup vegetables, peel them if necessary and roughly dice them. Peel the onions and garlic.

Mince the meat through the medium-sized grate (4 mm) of the mincer into a bowl on speed setting 3. Then mince the vegetables, onions and garlic into another bowl, also on speed setting 3.

Heat up a stew pot or roasting pan. Heat approx. 3 tbsp. of oil in it. First fry the meat in it in several portions, turning it regularly, until it is a rich brown colour then put to one side. Add the rest of the oil to the pot. Briefly sauté the onions, garlic and vegetables in the pot. Add the tomato paste and spices. Brown well. Add all the meat to the pot. Pour on approx. 1/3 of the red wine and let it boil down over a high heat, stirring continuously until all the liquid has evaporated. Repeat until all the wine has been used up. Then stir in the sherry and tomatoes. Season with salt, pepper, sugar andoregano. Braise over a low heat for approx. 40 minutes, stirring occasionally, and boil down until creamy. If necessary, add some stock in between.

Cook the pasta according to the instructions on the packet in plenty of boiling salted water until al dente. Strain the pasta and leave it to drain. Season the Bolognese to taste and serve with the pasta and Parmesan in curls.
Preparation time
90 minutes
---