Chicken Breast With Lentils
---
Serves 4 ⋅ Prep time 40min
---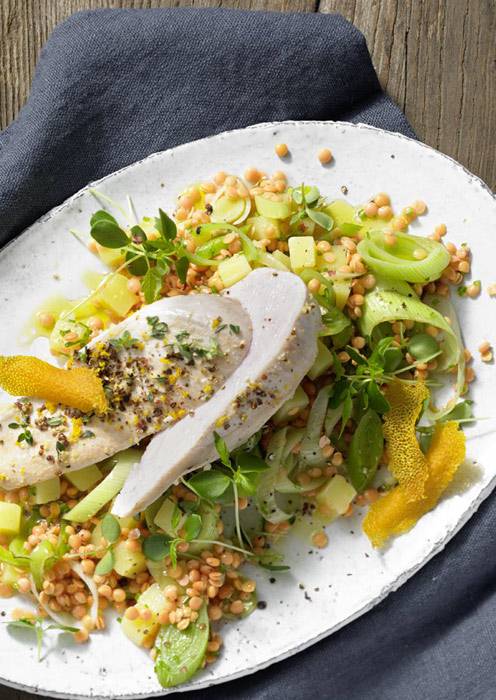 Ingredients
4chicken breasts (200 g each),
grated zest of 2 organic oranges
1 piece (approx. 4 cm) root ginger
2 cloves garlic
1 handful fresh thyme leaves
olive oil
250 g rote Linsen
2 shallots
2 leeks
400 g diced potato
250 g red lentils (gross weight)
1 tsp cumin
1 l vegetable stock
coarse sea salt, freshly ground pepper
---
Instructions
1. Grate ginger finely, put garlic through a press and add to a freezer bag with orange zest, thyme and 2-3 tbsp olive oil. Add the chicken breasts, mix together well and leave to marinate in the refrigerator for several hours or overnight.
2. Dice the shallots, cut the leek into rings and sweat with the potato cubes in 2–3 tbsp of olive oil. Add the lentils and 1 tsp cumin. Top up with stock until the lentils are just covered.
3. Season the chicken breasts with salt and pepper and place on the lentils. Put the lid on the pot and close, build up pressure on high heat and cook for 10 mins on level 2. Arrange on plates, garnish freely with fresh herbs.
---