Chinese Chicken Soup
---
Serves 4 ⋅ Prep time 50 min
---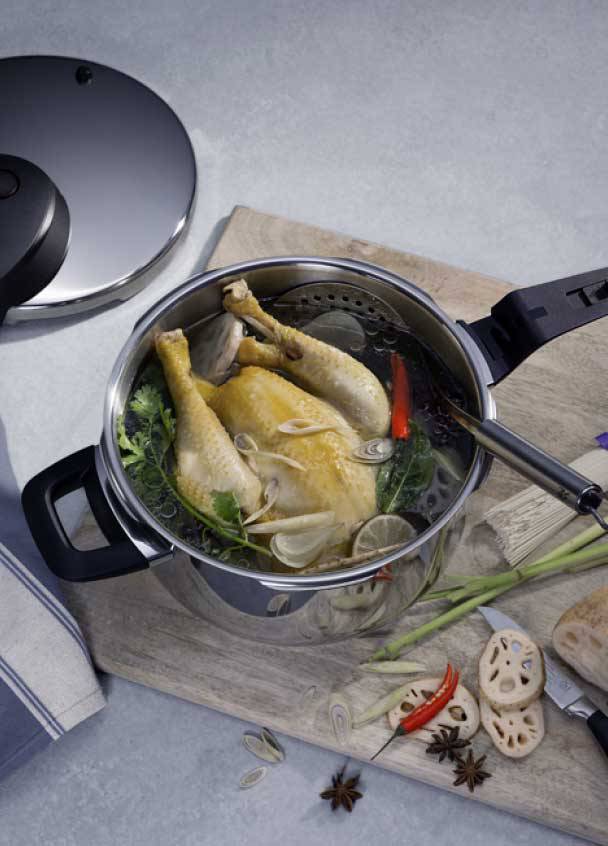 Ingredients
160 g fresh lotus root
1 onion
2 cloves garlic
1 stalk lemongrass
30 g fresh ginger
1 maize-fed chicken (approx. 1.2 kg)
½ untreated lime in slices
1 bay leaf
1/4 stick cinnamon
1 star anise
3 allspice corns
1 red chili
salt to taste
1 bunch coriander
2 spring onions
8 shiitake mushrooms
240 g Chinese noodles
lemon juice and soy sauce to taste
---
Instructions
1. Wash lotus root and peel onion and garlic. Cut lotus root into thick slices and onions into wedges. Press the garlic using your fist.Cut lemongrass into fine rings, wash and roughly dice the ginger.
2. Wash the chicken, drain and add to the pressure cooker with the lotus root, onion, garlic, lemongrass, lime slices, ginger, bay leaf, cinnamon, star anise, allspice and chili. Cover the chicken with just a little water, but do not fill beyond the mark for maximum filling height. Lightly salt the stock and follow the instructions to close the pressure cooker. Heat to cooking level 2 and cook for approx. 20 mins.
3. Meanwhile, wash the coriander and chop coarsely. Clean and wash the spring onions, cut them into thin rings. Clean the shiitake mushrooms, remove stalks and slice.
4. Follow the instructions to release pressure from the pressure cooker, remove the chicken and let it cool a little. Cook the noodles separately as per the instructions on the packet.
5. Meanwhile, remove the skin from the slightly cooled chicken, remove the meat from the bones and shred it finely. Add the meat with the cooked noodles, shiitake mushrooms, coriander and spring onions to the soup. Bring back to the boil, add lemon juice and soy sauce to taste and serve immediately.
---