Five-Minute Paella With Seafood
---
Serves 4; Prep time 20 min
---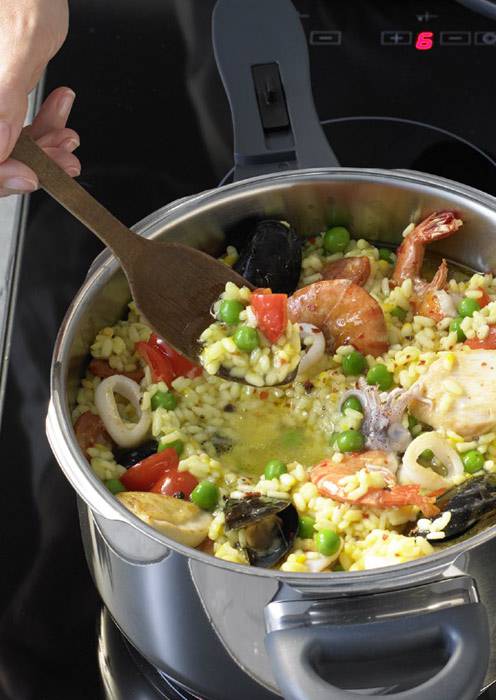 Ingredients
250 g risotto rice
2 onions
1 l vegetable stock
1 clove garlic
1 chili
200 g chicken breast
1 Packung seafood,
150 g frozen peas
1 red pepper
1/2 tsp saffron threads
2 Döschen Safranfäden
1 handful chopped parsley
grated zest of 1 organic lemon
olive oil
coarse sea salt
freshly ground pepper
Instructions
1. Thaw the seafood.
2. Dice the onion, chop the garlic and slice chili into rings, sweat in 3–4 tbsp olive oil, add rice, steam briefly and top up with stock.
3. Dice the chicken breast and pepper, add to a bowl with the peas and thawed seafood and stir. Scatter over the saffron, close the lid and build up the pressure at maximum heat. Follow´the instructions to cook on level 2 for approx. 6-8 mins.
4. Follow the instructions to open the lid, season with fresh parsley, lemon zest, salt and pepper, and serve on deep plates.
---