Herb Soup With Coconut Milk And Crostini
---
Serves 4 ⋅ Prep time 10 min
---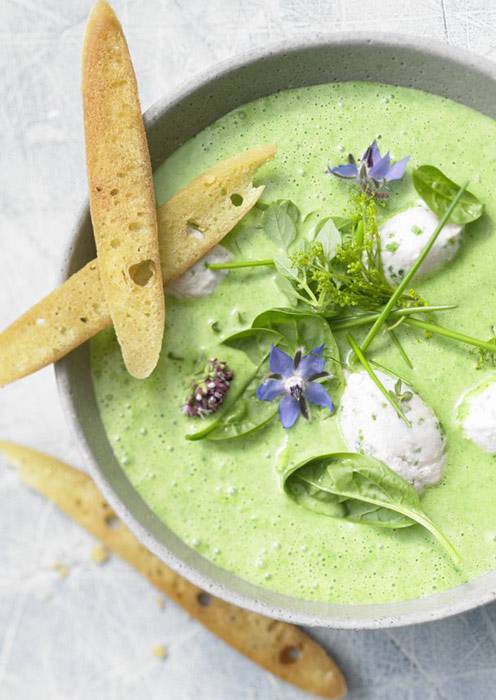 Ingredients
500 ml vegetable stock
2 shallots
1 carrot
1 piece of celery (approx. 100 g
400 ml coconut milk
je 1 handful each fresh chervil, parsley, coriander and baby spinach, coarse
thin baguette
butter
sea salt
freshly ground pepper
Garnish: Freely garnish with sprouts (e.g. alfalfa), cress or fresh herbs
---
Instructions
1. Dice the shallots, carrot and celery and sauté in a tablespoon of butter. Add stock and coconut milk, follow the instructions to close the lid and build up the pressure at maximum heat. Cook for 10 mins on level 2.
2. Follow the instructions to open the lid, add herbs and spinach and purée finely with a stick blender.
3. Cut the baguette into thin strips, toast until crisp in a frying pan with a little butter, serve with the soup. Freely garnish with fresh herbs, cress or sprouts.
TIP
The soup is also delicious with small cottage cheese dumplings, moulded using two teaspoons and dropped directly into the finished soup.