Quinoa Salad With Rocket And Goats Chees
---
Serves 4 ⋅ Prep time 20 min.
---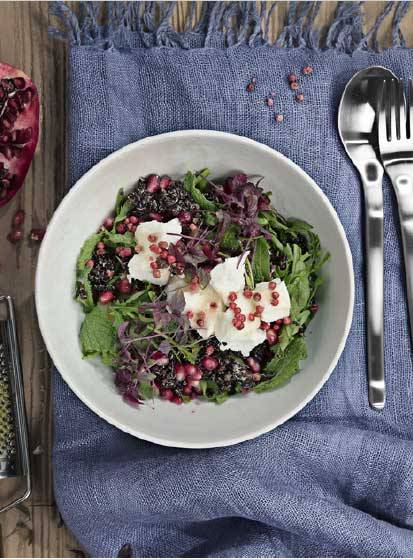 Ingredients
200 g Quinoa
grated zest of 1 organic lemon
juice of 2 organic lemons
600 ml vegetable stock
250 g pomegranate seeds
1 bunch of rocket
1 tbsp sweet pickled ginger
2 tbsp grapeseed oil
1 handful red cress,
6 sprigs of mint
150 g goats cheese
honey
red peppercorns
salt and pepper
---
Instructions
1. Cook quinoa with the lemon zest and 600 ml vegetable stock for approx. 5 mins on cooking level 1. Drain, add the juice of one lemon and allow to cool.
2. Finely chop ginger, coarsely chop rocket and mint. Stir together quinoa with pomegranate seeds, ginger, rocket, mint and grapeseed oil, season with salt, pepper and lemon juice.
3. Crumble goats cheese over the quinoa salad and drizzle with honey. Sprinkle with red peppercorns and red cress and serve.
TIP: Thin slices of strawberry are a great alternative to pomegranate seeds.
---