Spicy Africa
Hinter diesem Namen verbirgt sich ein Eintopf mit Maispoularden, Kichererbsen und Ducca, einer Äthiopischen Gewürzmischung
---
Serves 4 ⋅ Prep time 50 min.
---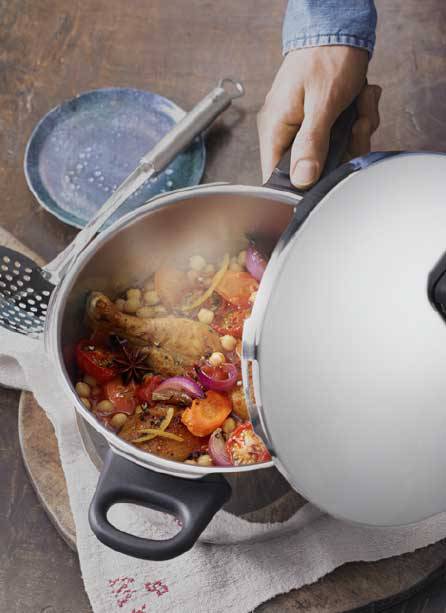 Ingredients
500 g chickpeas (dried)
1,5 l chicken stock, without fat (or vegetable or veal stock)
4maize-fed chicken drumsticks, skinned, jointed (or chicken drumsticks)
salt
freshly ground black pepper
3-4 tbsp olive oil
150 g red onion
300 g carrots
1small tin chopped tomatoes (approx. 400 ml)
2 pods star anise
1 stick cinnamon
1 bay leaf
100 g sun-dried tomatoes
dried peel of 1 organic orange
For the ducca
1 tbsp sesame seeds, skinned
½ tsp each black peppercorns, coriander seeds, cumin, thyme and dried mint
---
Instructions
1. Soak the chickpeas for 12 hours or overnight in chicken stock and chill. The next day, cook in the stock in the pressure cooker for 8 mins on level 2.
2. Season the meat with salt and pepper and brown on all sides in olive oil in a frying pan, then remove. Cut the onion into wedges and carrots into slices, brown in the frying pan in the remaining olive oil, then add salt.
3. Take the pressure cooker off the heat and allow to cool until the cooking indicator has disappeared into the lid. Open the pressure cooker and add the meat, carrot mixture, chopped tomatoes and spices (star anise, cinnamon, bay leaf) to the chickpeas. Close the lid again and cook for a further 8 mins on level 1.
4. Meanwhile, for the ducca, toast the sesame seeds in a frying pan until golden brown, then grind with the other spices in a mortar.
5. Open the pressure cooker, add the chopped sun-dried tomatoes and orange peel and season with salt and pepper. If possible leave to stand for at least 30 minutes, then reheat, arrange on the plate and sprinkle with ducca.
TIP:
Did you forget to soak the chickpeas the previous day? No problem – pulses can also be cooked in the pressure cooker without being soaked beforehand. Put the chickpeas in the pressure cooker and cover with plenty of water. Follow the instructions to close the lid and heat at the highest setting until you reach the top cooking level for pulses. Lower the heat and precook the chickpeas for approx. 15 mins. Then continue as per the recipe.
---