Stuffed Peppers
---
Serves 4 ⋅ Prep time 45 min.
---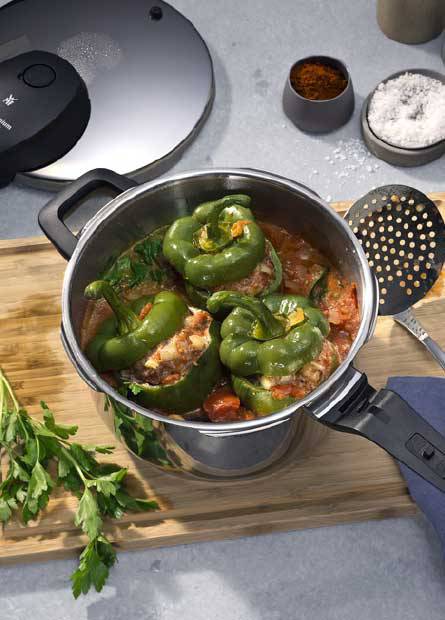 Ingredients
4 large green peppers
1 large onion
500 g minced beef
1 egg,
salt, pepper, sweet paprika powder
1 small tin chopped tomatoes (approx. 400 ml)
500 ml vegetable stock
Instructions
1. Cut the top off the peppers, remove seeds, ribs and white pith. Wash under cold water. Dice onion.
2. Mix minced meat with ¾ diced onion, egg, pepper, salt and paprika powder. Fill the peppers with the stuffing and replace the tops (if necessary, use toothpicks to secure them).
3. Place the peppers in the pressure cooker, distribute the remaining diced onion, vegetable stock and chopped tomatoes evenly around them. Close the lid, bring the pressure cooker to level 2 and cook the peppers for 20 mins. Turn off the heat and wait until the pressure has dropped so that the lid can be safely opened. Do not release the pressure as this would quench the peppers – they need time to finish cooking.
4. If possible, leave the top on and serve on a base of tomato sauce.
---