Warm Bean Salad
---
Serves 4 ⋅ Prep time 35 min.
---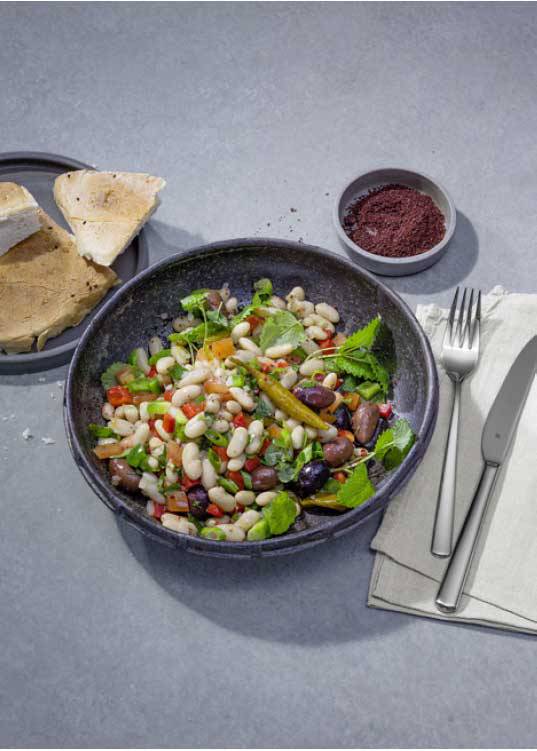 Ingredients
250 g dried white beans
1 onion,
2 cloves garlic
2 tbsp vegetable oil
600 mll vegetable stock
1 bay leaf
2 cloves
3 vine tomatoes
1 red and green pepper
2 spring onions
1 bunch lemon balm or mint
1 bunch parsley
juice of half an untreated lemon and grated zest of the entire lemon
1 tbsp red wine vinegar
3 tbsp acacia honey
1 tsp mustard
4 tbsp olive oil
sumach and Aleppo pepper to taste
1 tsp chili flakes
salt and pepper
12kalamata olives
ickled green jalapeño
pitta bread
---
Instructions
1. Rinse beans in cold water, soak over night in 1.5 l cold water. Peel onion and garlic, dice and sweat in vegetable oil in the pressure cooker for approx. 5 mins.
2. Drain the soaked beans and add to pressure cooker with vegetable stock, bay leaf and cloves. Follow instructions to close the pressure cooker. Heat pressure cooker on maximum heat until cooking level 2 for pulses is reached. Reduce temperature and cook beans for approx. 15 mins.
3. Meanwhile, wash tomatoes and peppers. Remove tomatoes from vine and dice. Quarter peppers, remove stems, seeds and membranes, then dice. Clean and wash the spring onions, cut them into thin rings. Wash lemon balm/mint and parsley. Coarsely tear lemon balm or mint and finely cut parsley.
4. Stir together lemon juice and grated zest, vinegar, honey and mustard. Gradually add olive oil and stir vigorously to form a creamy dressing.Season the dressing with sumach, Aleppo pepper, chili flakes, salt and pepper to taste.
5. Follow instructions to release pressure from pressure cooker, drain beans and place in a bowl. Add diced tomatoes and peppers, spring onions, parsley, lemon balm/mint and olives and toss. Drizzle with prepared dressing, stir well and leave to marinate for approx. 5 mins.
6. Season the salad with salt and pepper to taste and serve. Garnish with the pickled jalapeños and serve with fresh pitta bread.
---