Red vegetable curry from the wok with jasmine rice
---
---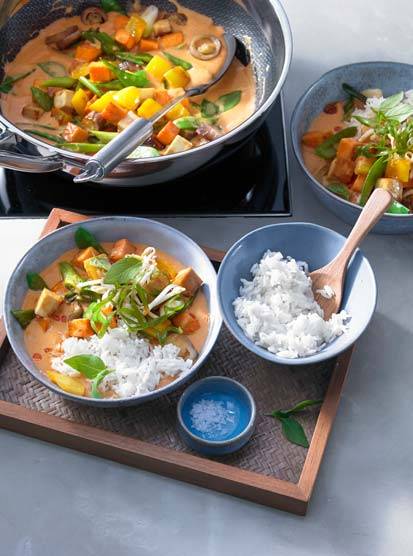 For the curry:
4 thin spring onions
40 g bean sprouts
1/2 bunch Thai basil
80 g sugar snap
400 g sweet potatoes
300 g mini aubergines, alternatively large aubergines
400 g yellow pepper
400 g tofu
30 ml peanut oil for frying
40 g red curry paste, mild or hot – according to your own taste
400 ml coconut milk
20 0 ml vegetable stock
Lime juice
Palm sugar
---
Preparation
Rinse the rice in a sieve with cold water and drain, then add to 350 ml boiling salted water, bring to the boil, cover and simmer on the turned off hotplate.
For the curry, clean the spring onions and chop finely. Rinse the bean sprouts in cold water. Pluck the Thai basil from the stems and roughly chop. Clean the sugar snap and cut in half diagonally. Peel the sweet potatoes and dice into centimetre-size pieces. Wash and slice the aubergines. Remove the stalks and core from the peppers and roughly slice. Dice the tofu, then sauté in oil in a wok with the sweet potatoes, aubergines and peppers.
Then add the curry paste and continue frying. Add the coconut milk and stock and cook for 10 minutes – after 5 minutes add the sugar snap. Season the curry with lime juice, palm sugar and salt, top with the spring onions, bean sprouts and Thai basil, and serve with rice.
Preparation time
1 hour
---