Product details
Highlights
Content: 1 each salad fork and serving spoon. Length: 24.8 cm. - item number: 1271216330
Material: Cromargan protect stainless steel matt finish. Rust-free, dishwasher safe, dimensionally stable, sanitary, acid resistant, indestructible and scratch resistant.
Extremely scratch resistant: Silverware stays like new for many years and does not indicate any traces of use even when intensively used on a daily basis. WMF Cromargan Protect silverware undergoes a patented process that is exclusive at WMF to strengthen the resistance to traces of use.
Made by WMF - Production at our own WMF plant in Heshan.
Design: WMF Atelier (Peter Bäurle). Design prize: red dot award, Good Design.
Product description
Durchmischen, aufgreifen, servieren: Keine Frage, zu einem frischen Salat gehört ein Salatbesteck. Es ist stets zweiteilig, wobei seine flachen, äußerst großzügig gestalteten Laffen die leichte Aufnahme des Salats ermöglichen – und zwar so, dass überschüssiges Dressing vor dem Servieren leicht abtropfen kann. Die langen Stiele des Bestecks sorgen für bequemes Hantieren und verhindern zugleich, dass es in die Salatschlüssel rutscht.
Seine ungewöhnliche Länge, seine schlanke Form und seine seidig mattierte Oberfläche fallen sofort ins Auge. Keine Frage: Das WMF Besteck Vision ist etwas Besonderes. Designer Peter Bäurle schuf ein gleichermaßen massives wie plastisches Besteck mit ausgewogenen Proportionen und asymmetrischer Facette am Stielende. Ein Hingucker ist das Messer mit eingesetzter geschmiedeter Klinge: Es lässt sich liegend oder auf der Klinge stehend eindecken. Sehr stilvoll wirkt Ihr Gedeck mit den vielen passenden Servier- und Ergänzungsteilen.
Specifications
| | |
| --- | --- |
| SKU: | 3201002364 |
| Alte Art. Nr.: | 12.7121.6330 |
| EAN | 4000530642790 |
| Brand | WMF Edition |
| Collection | Vision |
| Size sets | 2-pcs. |
| Scope of delivery | 1 x salad fork, 1 x serving spoon |
| Material | Cromargan protect |
| Length (cm) | 24.8 |
| Color | stainless steel |
| Care | Dishwasher safe |
| Designer | WMF Atelier (Peter Bäurle) |
| Design Award | Good Design The Chicago Athenaeum 2005, red dot award Design Zentrum NRW 2005 |
Cromargan protect
WMF Cromargan® Protect Technology
Cutlery that always looks as good as new even after years of use – no longer just wishful thinking but now a reality. WMF Cromargan protect means the surface of the cutlery items always looks flawless. The passing of time hardly leaves a trace, even after extended use.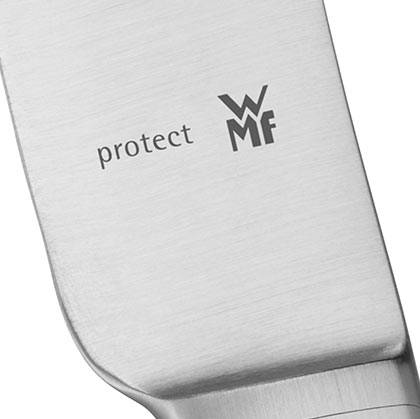 When WMF was the first company to use stainless steel for the manufacturing of cutlery and household appliances more than 80 years ago, this marked the start of one of the most progressive chapters in the history of cooking and housekeeping. The material, which is known by the name Cromargan®, cannot tarnish, is rustproof, acid-resistant, unbreakable, easy to clean and so is extremely durable.
150 years after its first cutlery model was launched onto the market, in 2009 WMF introduced cutlery finished with Cromargan protect. Cromargan protect is produced using a thermochemical treatment process. This involves adding nitrogen to stainless steel at high temperatures, which penetrates into the material and results in a much harder surface after it cools down. This makes the material extremely resistant against signs of wear, and means it still looks as good as new even after years of use. Even intensive use and frequent cleaning in the dishwasher has no adverse effects. Polished surfaces never lose their shine, and matt surfaces stay matt. A brilliant innovation, which is patented and internationally protected by the WMF brand.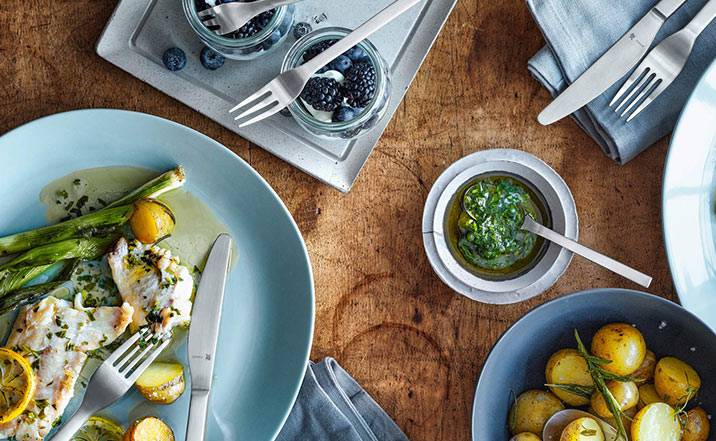 Your cutlery stays looking as beautiful as on the day you bought it.
Extremely resistant to scratches and signs of wear and tear

Polished surfaces stay shiny, matt finishes stay matt.

Knife blades made of high-grade special blade stay sharp for longer

Rustproff and dishwasher safe.

Unique WMF design that gives you pleasure every day.
View Reviews (0)

Your review