Product details
Highlights
Material: Cromargan protect Edelstahl poliert
Rostfrei
Spülmaschinengeeignet
Säurefest, unverwüstlich und kratzbeständig
Kommt vor allem beim Servieren von Aufschnitt zum Einsatz
Product description
Die Spezialgabel mit den markanten zwei Zacken kommt vor allem beim Servieren von Aufschnitt zum Einsatz. Mit ihr lassen sich Wurstscheiben, kleine Käsestückchen oder Fischhappen ideal aufgreifen und auf den Tellern verteilen. Darüber hinaus ist sie am Buffet ein unerlässliches Servierbesteck: Ob Carpaccio, Rinderbraten, Parmaschinken oder Lachs – das handliche Modell wird dezent am Tellerrand platziert und ermöglicht so eine schnelle und unkomplizierte Verwendung.
Bei diesem Besteck vereinen sich Gegensätze: So ist der Hals des Stiels zierlich und sanft gewölbt das Ende hingegen breit und flach. Der plastisch betonte Übergang zum Vorderteil fungiert als hübsches Dekorelement. Neben diesen optischen Merkmalen zeichnet sich das Besteck Ambiente außerdem durch eine aufwendige Materialverarbeitung und eine angenehme Haptik aus. Es ist aus poliertem Cromargan protect gefertigt was bedeutet dass alle Teile extrem kratzbeständig sind und daher selbst nach Jahren noch aussehen wie neu. Dank seiner Unkompliziertheit eignet sich das WMF Besteckmodell das von Designer Peter Ramminger entworfen wurde für den alltäglichen Gebrauch und setzt ebenso auf einer festlich gedeckten Tafel stilvolle Akzente.
Specifications
| | |
| --- | --- |
| SKU: | 12.2830.6340 |
| EAN | 4000530640567 |
| Brand | WMF |
| Collection | Ambiente |
| Size sets | 1-pc. |
| Scope of delivery | 1x Serviergabel (20,5 cm) |
| Material | Cromargan protect |
| Material property | Stainless steel, polished |
| Product properties | Easy to clean and care for |
| Length (cm) | 20.5 |
| Gross weight (g) | 40,8 |
| Color | stainless steel |
| Care | Dishwasher safe |
| Designer | WMF Atelier (Peter Ramminger) |
Cromargan protect
WMF Cromargan® Protect Technology
Cutlery that always looks as good as new even after years of use – no longer just wishful thinking but now a reality. WMF Cromargan protect means the surface of the cutlery items always looks flawless. The passing of time hardly leaves a trace, even after extended use.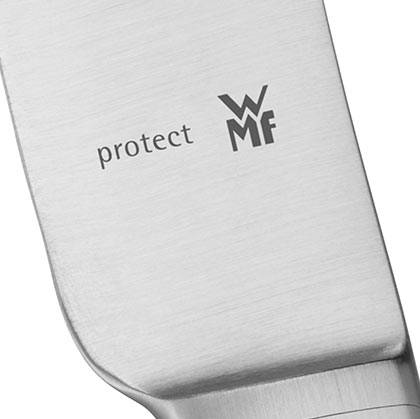 When WMF was the first company to use stainless steel for the manufacturing of cutlery and household appliances more than 80 years ago, this marked the start of one of the most progressive chapters in the history of cooking and housekeeping. The material, which is known by the name Cromargan®, cannot tarnish, is rustproof, acid-resistant, unbreakable, easy to clean and so is extremely durable.
150 years after its first cutlery model was launched onto the market, in 2009 WMF introduced cutlery finished with Cromargan protect. Cromargan protect is produced using a thermochemical treatment process. This involves adding nitrogen to stainless steel at high temperatures, which penetrates into the material and results in a much harder surface after it cools down. This makes the material extremely resistant against signs of wear, and means it still looks as good as new even after years of use. Even intensive use and frequent cleaning in the dishwasher has no adverse effects. Polished surfaces never lose their shine, and matt surfaces stay matt. A brilliant innovation, which is patented and internationally protected by the WMF brand.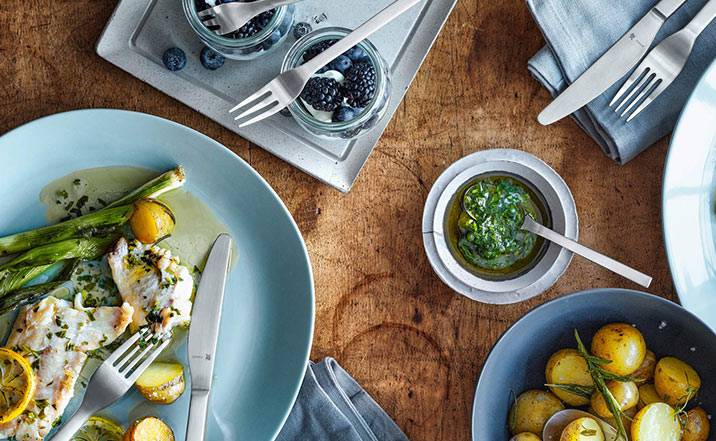 Your cutlery stays looking as beautiful as on the day you bought it.
Extremely resistant to scratches and signs of wear and tear

Polished surfaces stay shiny, matt finishes stay matt.

Knife blades made of high-grade special blade stay sharp for longer

Rustproff and dishwasher safe.

Unique WMF design that gives you pleasure every day.
View Reviews (0)

Your review