Product details
Highlights
Aus Cromargan protect Edelstahl - extrem kratzbeständig
Eleganter Look durch poliertes Oberflächenfinish
Leicht zu pflegen - Spülmaschinengeeignet
Rostfrei, formstabil, hygienisch, säurefest und unverwüstlich
Zeitloses Design von Volker Bäurle
Product description
Der Servierlöffel eignet sich bestens für das Servieren von Gemüsegerichten, Aufläufen und klassischen Beilagen wie Reis und Kartoffeln. Er ist deutlich größer als das Menuebesteck, seine Laffe ist rund und großzügig, um Speisen leicht aufnehmen und servieren zu können. Zu jedem WMF Besteck gibt es den passenden Servierlöffel. Die Messer aus rostfreiem Klingenstahl werden aus einem Stück geschmiedet und im Ganzen gehärtet. Der Härteprozess sorgt für eine gute Schneideigenschaft und macht sie korrosionsbeständig. Die neuartige Materialveredelung macht unsere Bestecke extrem widerstandsfähig gegen Kratzer und Gebrauchsspuren. Polierte Oberflächen bleiben glänzend, mattierte bleiben matt. Das Besteck sieht auch nach Jahren noch fast so aus wie neu.
Schlicht und schlank ist das Besteck Atic, das von Designer Volker Bäurle entworfen wurde. Dabei spiegeln die abgerundeten Kanten und Stielenden den modernen Zeitgeist wider und sorgen für eine angenehme Haptik. Hochwertige Messer mit eingesetzter geschmiedeter Klinge sorgen für langanhaltende Schneidfähigkeit, und die Veredelung mit Cromargan protect® verleiht den polierten Besteckteilen eine hohe Widerstandskraft gegen äußere Einflüsse. Atic zählt zu den universal einsetzbaren Bestecken von WMF, die sich sowohl am alltäglichen Mittagstisch als auch an der feierlich gedeckten Tafel harmonisch ins Umfeld einfügen.
Specifications
| | |
| --- | --- |
| SKU: | 11.0616.6340 |
| EAN | 4000530654571 |
| Brand | WMF |
| Collection | Atic |
| Size sets | 1-pc. |
| Scope of delivery | 1x Servierlöffel |
| Material | Cromargan protect |
| Material property | polished |
| Production | Engineered in Germany |
| Length (cm) | 23,7 |
| Gross weight (g) | 81,6 |
| Color | stainless steel |
| Care | Dishwasher safe |
| Designer | WMF Atelier (Volker Bäurle) |
Cromargan protect
WMF Cromargan® Protect Technology
Cutlery that always looks as good as new even after years of use – no longer just wishful thinking but now a reality. WMF Cromargan protect means the surface of the cutlery items always looks flawless. The passing of time hardly leaves a trace, even after extended use.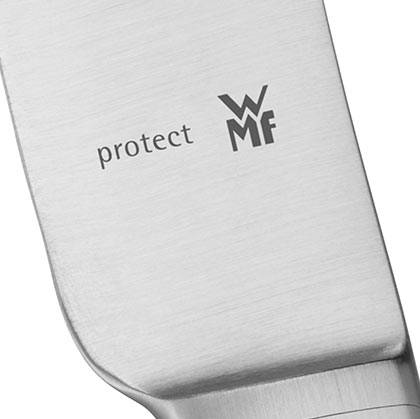 When WMF was the first company to use stainless steel for the manufacturing of cutlery and household appliances more than 80 years ago, this marked the start of one of the most progressive chapters in the history of cooking and housekeeping. The material, which is known by the name Cromargan®, cannot tarnish, is rustproof, acid-resistant, unbreakable, easy to clean and so is extremely durable.
150 years after its first cutlery model was launched onto the market, in 2009 WMF introduced cutlery finished with Cromargan protect. Cromargan protect is produced using a thermochemical treatment process. This involves adding nitrogen to stainless steel at high temperatures, which penetrates into the material and results in a much harder surface after it cools down. This makes the material extremely resistant against signs of wear, and means it still looks as good as new even after years of use. Even intensive use and frequent cleaning in the dishwasher has no adverse effects. Polished surfaces never lose their shine, and matt surfaces stay matt. A brilliant innovation, which is patented and internationally protected by the WMF brand.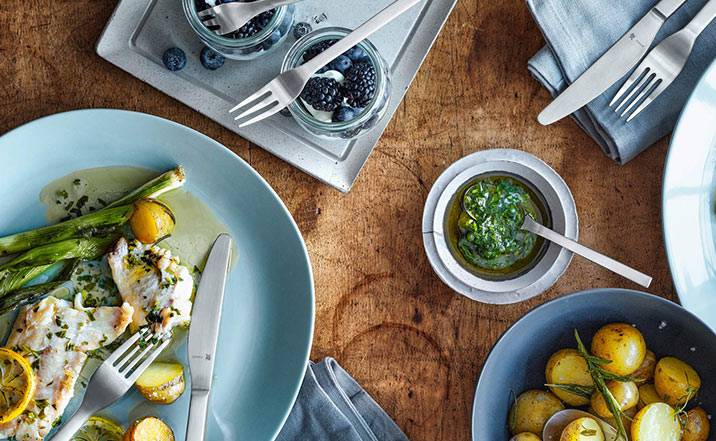 Your cutlery stays looking as beautiful as on the day you bought it.
Extremely resistant to scratches and signs of wear and tear

Polished surfaces stay shiny, matt finishes stay matt.

Knife blades made of high-grade special blade stay sharp for longer

Rustproff and dishwasher safe.

Unique WMF design that gives you pleasure every day.
View Reviews (0)

Your review