Product details
Highlights
Content: 1 each portioning spoon, serving spoon and serving fork. Length: 17.5| 24.0| 20.5 cm. | Item number: 1261926340
Material: Cromargan® protect stainless steel polished. Rust-free, dishwasher safe, dimensionally stable, sanitary, acid resistant, indestructible and scratch resistant.
Extremely scratch resistant: Silverware stays like new for many years and does not indicate any traces of use even when intensively used on a daily basis. WMF Cromargan® Protect silverware undergoes a patented process that is exclusive at WMF to strengthen the resistance to traces of use.
Made by WMF - Production at our own WMF plant in Heshan.
Design: Luca Casini.
Product description
Slender and graceful, almost a little fragile – this is your first impression. Flame is restrained and adapts. Its simplicity and unobtrusive elegance are delightful. The more attention you pay to the cutlery, the more attractive it becomes. Flame is not boring, it gradually reveals itself. The slender shape is a feature running all the way through – right to the knife blade. Despite this slenderness, Flame has a pleasant soft feel in the hand.
At first glance, the WMF Flame cutlery appears quite delicate. Of course it is not, however, its slim and graceful shape is an eye-catcher. The fine knives with their forged and emphasised, long blades ensure long-lasting cutting performance. The length of the cutlery is above average, and thanks to its graceful shape it is pleasantly lightweight. Polished and yet with an understated elegance, Flame will enhance any table setting - and since the range of items is quite extensive, the table can be sizable.
Specifications
| | |
| --- | --- |
| SKU: | 12.6192.6340 |
| EAN | 4000530653925 |
| Brand | WMF |
| Collection | Flame |
| Size sets | 3-pcs. |
| Scope of delivery | 1 x soup ladle, 1 x serving spoon, 1 x serving fork |
| Material | Cromargan protect |
| Material property | polished |
| Length (cm) | 17.5 |
| Color | stainless steel |
| Care | Dishwasher safe |
| Designer | Luca Casini |
Cromargan protect
WMF Cromargan® Protect Technology
Cutlery that always looks as good as new even after years of use – no longer just wishful thinking but now a reality. WMF Cromargan protect means the surface of the cutlery items always looks flawless. The passing of time hardly leaves a trace, even after extended use.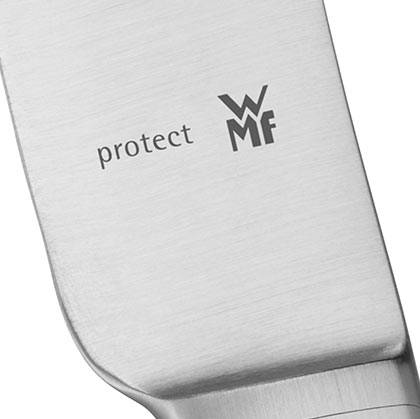 When WMF was the first company to use stainless steel for the manufacturing of cutlery and household appliances more than 80 years ago, this marked the start of one of the most progressive chapters in the history of cooking and housekeeping. The material, which is known by the name Cromargan®, cannot tarnish, is rustproof, acid-resistant, unbreakable, easy to clean and so is extremely durable.
150 years after its first cutlery model was launched onto the market, in 2009 WMF introduced cutlery finished with Cromargan protect. Cromargan protect is produced using a thermochemical treatment process. This involves adding nitrogen to stainless steel at high temperatures, which penetrates into the material and results in a much harder surface after it cools down. This makes the material extremely resistant against signs of wear, and means it still looks as good as new even after years of use. Even intensive use and frequent cleaning in the dishwasher has no adverse effects. Polished surfaces never lose their shine, and matt surfaces stay matt. A brilliant innovation, which is patented and internationally protected by the WMF brand.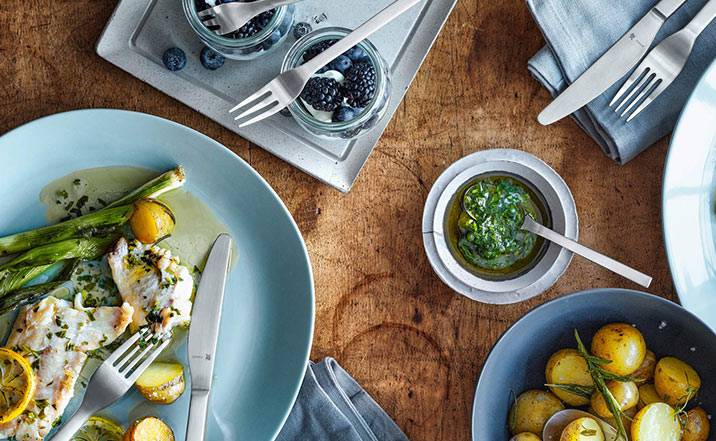 Your cutlery stays looking as beautiful as on the day you bought it.
Extremely resistant to scratches and signs of wear and tear

Polished surfaces stay shiny, matt finishes stay matt.

Knife blades made of high-grade special blade stay sharp for longer

Rustproff and dishwasher safe.

Unique WMF design that gives you pleasure every day.
View Reviews (0)

Your review