Product details
Highlights
Preis-Highlight: statt 249 € (UVP 30-teiliges Kult Besteck-Set) jetzt zum Aktionspreis von 179 €. Dieses 40-teilige Besteck-Set bietet Ihnen also 10 Besteckteile im Wert von 70 € gratis!
Material: Cromargan protect Edelstahl rostfrei
Formstabil, hygienisch, säurefest, unverwüstlich und kratzbeständig
Patentiertes, WMF-exklusives Verfahren zur Stärkung der Widerstandsfähigkeit gegen Gebrauchsspuren
Mehr zum Living at Home Shopping-Tipp gibts hier: https://www.wmf.com/de/besteck-kult.html
Product description
Das 40-teilige Besteck-Set bietet Ihnen passend zu zahlreichen Speisen und Gängen je acht Menügabeln, -messer und -löffel sowie Kuchengabeln und Kaffeelöffel. Die 40 Teile sind eine gute Basis für tägliches Speisen und können mit weiteren Servier- und Ergänzungsbestecken vervollständigt werden – für eine vollendete Tischkultur. Das klassische, zeitlose Set kommt nie aus der Mode und eignet sich deshalb sowohl für moderne, als auch traditionelle Tischwelten. Die Veredelung mit Cromargan protect verleiht den polierten Besteckteilen eine hohe Widerstandskraft gegen jegliche Gebrauchsspuren im Alltag.
Specifications
SKU:
12.6040.9990
EAN
4000530702517
Brand
WMF
Collection
Kult
Scope of delivery
8x Menülöffel
8x Menügabeln
8x Tafelmesser
8x Kaffeelöffel
8x Kuchengabeln
Material
Cromargan protect
Material property
polished
Product properties
Easy to clean and care for, serrated knife
Production
Engineered in Germany
Heat resistant up to
Heat resistant up to 130°C
Knife art
Monobloc
Color
stainless steel
Care
Dishwasher safe
Designer
freiTraum
Kooperationspartner
Living_at_home
Cromargan protect
WMF Cromargan® Protect Technology
Cutlery that always looks as good as new even after years of use – no longer just wishful thinking but now a reality. WMF Cromargan protect means the surface of the cutlery items always looks flawless. The passing of time hardly leaves a trace, even after extended use.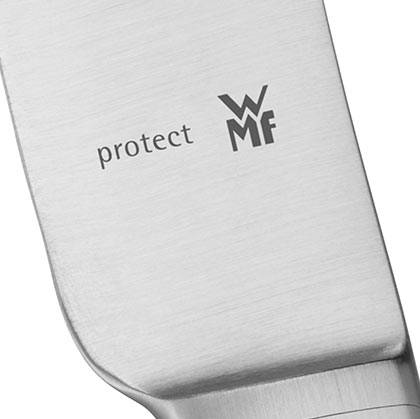 When WMF was the first company to use stainless steel for the manufacturing of cutlery and household appliances more than 80 years ago, this marked the start of one of the most progressive chapters in the history of cooking and housekeeping. The material, which is known by the name Cromargan®, cannot tarnish, is rustproof, acid-resistant, unbreakable, easy to clean and so is extremely durable.
150 years after its first cutlery model was launched onto the market, in 2009 WMF introduced cutlery finished with Cromargan protect. Cromargan protect is produced using a thermochemical treatment process. This involves adding nitrogen to stainless steel at high temperatures, which penetrates into the material and results in a much harder surface after it cools down. This makes the material extremely resistant against signs of wear, and means it still looks as good as new even after years of use. Even intensive use and frequent cleaning in the dishwasher has no adverse effects. Polished surfaces never lose their shine, and matt surfaces stay matt. A brilliant innovation, which is patented and internationally protected by the WMF brand.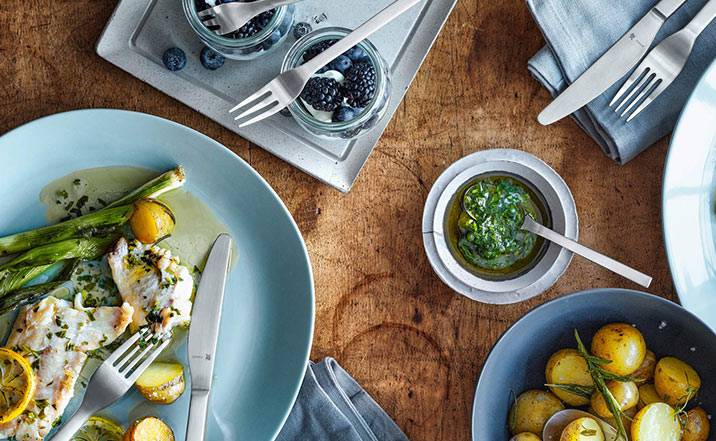 Your cutlery stays looking as beautiful as on the day you bought it.
Extremely resistant to scratches and signs of wear and tear

Polished surfaces stay shiny, matt finishes stay matt.

Knife blades made of high-grade special blade stay sharp for longer

Rustproff and dishwasher safe.

Unique WMF design that gives you pleasure every day.
View Reviews (0)

Your review