THE FINEST OF OUR BEST
Chef's Edition Damasteel®
Legendary knives. Made in Germany.
Using the traditional forging process and around 120 layers of steel, unparalleled masterpieces are created at our forge in Hayingen: the Chef's Edition Damasteel®. The finest of our best. Made in Germany.
Similar to Damascus blades, high-quality steels with varying degrees of hardness are used to manufacture Damasteel®. Instead of forge-welding individual layers and repeatedly folding the steel, these steels are pulverized and combined in a vacuum by means of extreme pressure. This creates a workpiece made from around 120 layers of steel that is then further processed using traditional methods, which of course include acid etching to make every knife an outstanding individual piece.

Damasteel® –
innovation meets tradition.
WMF Performance Cut – for long-lasting sharpness.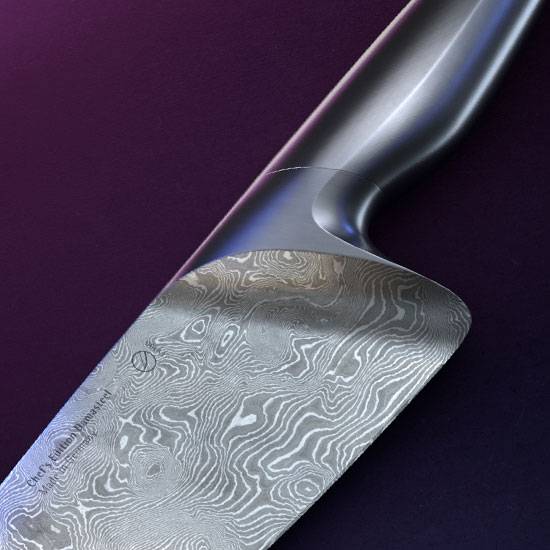 Holistic design meets traditional craftsmanship: that´s our Chef´s Edition Damasteel® collection.
Iconic design: seamless, ergonomic and balanced.



For meat, fish, vegetables
and many other food items.
CHEF'S EDITION DAMASTEEL®