Spicy green gazpacho
---
---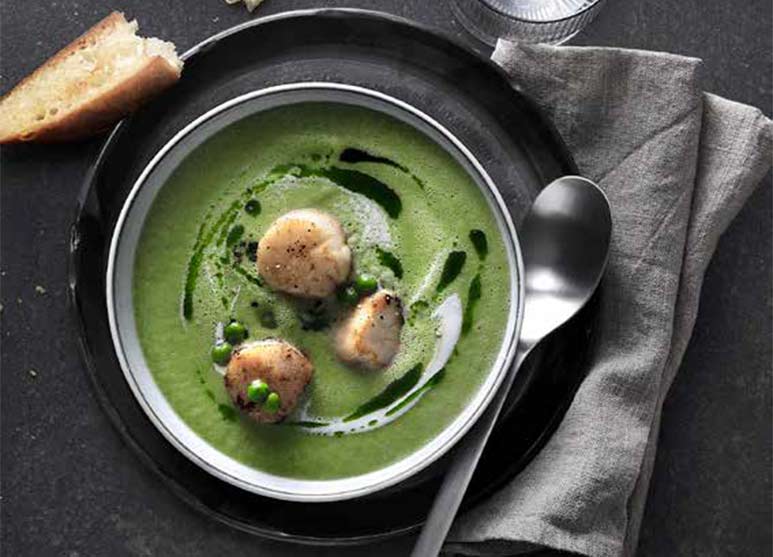 Gazpacho:
1 cucumber
150 g frozen green peas
1 garlic clove
1 lime
1 spicyjalapeno
250 ml vegetable broth
Salt and pepper
Parsley & mint oil
50 g parsley
25 g mint
75 g neutral vegetable oil
Topping
12 small scallops
3 thyme sprigs
2 tbsp butter
2 tbsp yoghurt
---
Preparation
Place peas in a strainer and blanch with boiling water. Peel the cucumber and cut into bite-sized pieces. Peel the garlic and crush with a knife. Halve the jalapeno. Halve the lime and extract the juice. Combine all the ingredients, except for 2 tbsp of blanched peas, in the large to-go mixing container using the cross cutter and mix on automatic programme 1 until smooth and creamy. Season with the salt and pepper to taste. Place the gazpacho in the fridge for at least 60 minutes to cool.

In a small pot bring 500 ml of water to a boil. Blanch herbs for about 30 seconds and immediately shock in ice water. Strain through a sieve and press out all remaining water with a dry kitchen towel. Next, coarsely chop the leaves only and put them in the small mixing container. Add oil and close using the flat blade. Turn on automatic programme 3 and strain through a tea bag or cloth.

Heat up a pan and add 2 tbsp of neutral oil. Dab the scallops dry on another paper towel, season with salt and sear in the hot pan on each side for about 2 minutes until they turn a golden colour. Add the thyme, remaining peas and butter to the pan, give it a good stir and toss with aromatized butter. Remove the pan from the stove.

Transfer the cold gazpacho to 4 bowls or plates, drizzle with a bit of yoghurt and herb oil, add the scallops to each portion and serve with crispy garlic bread.
---