Spinach Cheese Rigatoni
---
---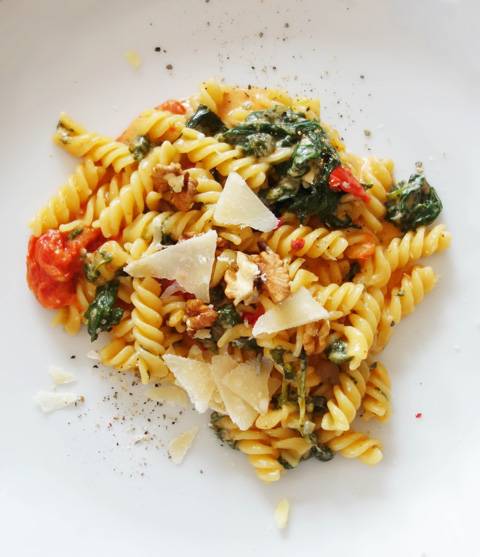 Ingredients
2 cloves garlic
3 onions
1 tbsp. butter
75 ml white wine
350 ml whole milk
1 dried chili pepper
350 g penne
150 g gorgonzola with mascarpone cheese
25 g parmesan cheese, (finely grated)
1 tbsp. lemon juice
150 g baby leaf spinach
30 g walnut kernels
Salt & pepper
Nutmeg
---
Preparation
1. Finely dice garlic and onions. Heat butter in a pan. Sauté onions and garlic until translucent. Add flour and sauté while stirring. Pour in wine and reduce by half. Then add milk and whisk until smooth. Add the chili pepper and boil down the sauce for 5 minutes.

2. Meanwhile, cook the pasta in boiling salted water according to package directions until al dente.

3. Crumble the Gorgonzola, add to the sauce with the Parmesan and let it melt. Season with salt, pepper, nutmeg and lemon juice. Wash spinach, spin dry and mix in. Coarsely chop the walnuts.

4. Drain the pasta in a colander. Mix with the sauce in a bowl, sprinkle with walnuts and serve.

---