Sticky BBQ spare ribs on grilled red cabbage coleslaw
---
---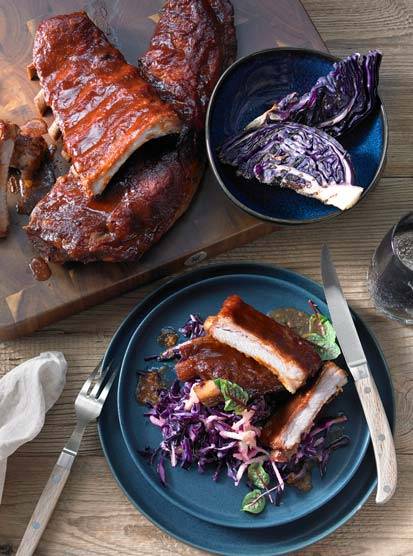 For the rub:
2 tbsp. brown sugar
1 tbsp. coarse salt
1 tbsp. sweet paprika powder
1 tbsp. hot paprika powder
1 tbsp. garlic powder
1 tbsp. onion powder
3 kg spare ribs (4 racks of approx. 8 rib bones each), have the bone skin removed by the butcher



For the glaze:

100 g fresh ginger
500 ml cherry juice
200 ml maple syrup
300 ml ketchup
125 ml balsamic vinegar
150 ml soya sauce
For the coleslaw:
1 quarter of a red cabbage, approx. 300 g
Salt
120 g Apfel, grob geraspelt
80 g of sour cream
Sugar
Approx. 30 ml lemon juice
---
Preparation
To prepare the rub, the day before mix all the ingredients in a mortar, then massage into the meat of the ribs and marinate overnight or at least for a few hours in the refrigerator.
The next day, preheat the oven to 180°C (170°C fan-assisted oven). Peel and finely grate the ginger, then boil it together with the other ingredients for the glaze. Mix the ribs with the boiling glaze and braise for 120-160 minutes in a covered roasting pan in the oven on the middle shelf, brushing occasionally with the glaze.
Meanwhile, clean the cabbage for the salad, cut it in half so that it still holds together at the stalk and grill it on the barbecue (in a grill pan) over a medium heat for 4-5 minutes on each side, then cut it into fine strips. Lightly salt the red cabbage strips and knead vigorously, then leave to stand for 10 minutes. Wash the apples, then grate or cut into strips and mix with the cabbage. Next carefully press dry and mix with the sour cream, season with salt, sugar and lemon juice. Serve together with the spare ribs.
Preparation time
3 hours
---