Stuffed vine leaves (dolmades)
Freshly blanched vine leaves filled with herb rice, raisins and almond slivers, rolled and cooked in lemon juice
---
---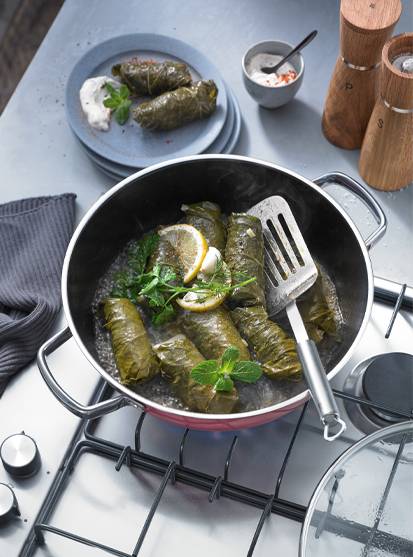 Ingredients:
24 fresh vine leaves (alternatively, use vine leaves in brine from a Turkish shop)
Salt
3 onions
2 garlic cloves
6 tbsp. olive oil
150 g long grain rice
2 tbsp. tomato puree
1 small bunch of dill and parsley
3 sprigs of mint
2 organic lemons
50 g raisins
50 g almond slivers
Pepper, cinnamon, coriander
---
Preparation
Wash the vine leaves in cold water, clean (remove hard stems/stalks) and blanch for approx. 5 minutes in boiling salt water using the Fusiontec stewing pan 28 cm. Remove using a skimmer, drain and spread onto clean kitchen towels. For the filling, peel and finely dice the onions and garlic. Heat up 2 tbsp. oil in the Fusiontec stewing pan 28 cm, lightly saute the onions and garlic, add the rice and saute whilst stirring. Add the tomato puree, briefly fry, douse with 300ml water, add salt and cook for approx. 15 minutes, covered, until the rice has absorbed the water (it should not, however, be cooked through!). Meanwhile, chop the herbs together with the fine stems. Finely grate the lemon rind and squeeze out the juice. Leave the rice to cool a little, mix with the herbs, lemon rind, 1/2 of the lemon juice, the raisins and the almonds and season to taste with pepper, cinnamon and coriander. Place 1-2 tsp. rice filling in the centre of each of the vine leaves, fold the sides of the leaf on top and roll from the bottom upwards, creating small roulades. Place these roulades into the Fusiontec stewing pan 28 cm side by side with the leaf opening facing downwards, so that there is no room in between. Then cover only slightly with hot water, add the rest of the lemon juice and oil and cover/weigh down the vine leaves with a suitable plate. Heat up the pan on the stove until the water simmers gently. Cook the vine leaves, covered, for at least 1–1.5 hours, until the liquid has been almost completely absorbed. If required, pour in a little extra water throughout. Leave the vine leaves to cool and serve cold as a starter or snack. This dish can be served with flatbread and mintyoghurt dressing with pul biber.
---