Sweet rolls with a star anise and plum filling and tonka sauce
---
---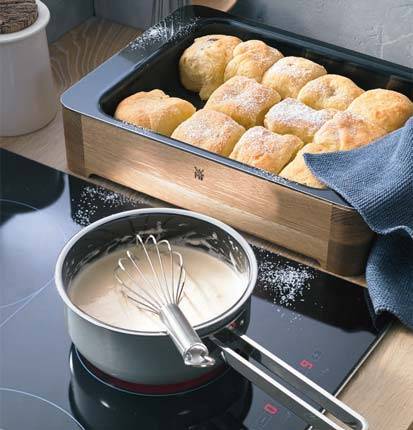 For the sweet rolls:
35 g fresh yeast
250 ml lukewarm milk
200 g soft butter
650 g flour
3 eggs, class M
100 g sugar
1 tsp. salt
For the filling:
250 g plum mousse
1/2 tsp. ground star anise
For the tonka sauce:
300 ml cream
300 ml milk
50 g sugar
1/2 tonka bean, grated
6 egg yolks
---
Preparation
For the dough, dissolve the yeast in lukewarm milk. Add 150 g butter, the flour, egg, sugar and salt into a mixing bowl. Pour over the yeast milk and mix into a smooth dough using the kneading hook on a food processer. Leave to rise in a warm place for approx. 60 minutes, covered, until the volume has increased significantly.
Pre-heat the oven to 180 °C top/bottom heat. Grease the Fusiontec oven pan L with a little butter. Stir the plum mousse and star anise. Knead the dough on a lightly flour-coated worktop. Break off small pieces of the dough and form into balls with a diameter of 3 cm. Press the balls flat, fill each with 1 tsp. plum mousse, close the dough over the top and reform into a ball shape. Place the balls side by side in the oven pan, so that they touch slightly.
Dollop the spaces in between and the edges with the remainder of the butter. Leave to rise for another 30 minutes, covered.
Bake the sweet rolls on the middle shelf for approx. 25 minutes. Once the sweet rolls are slightly brown on top, they are ready.
Meanwhile for the tonka sauce, bring milk, sugar and the grated tonka bean to boil in the Fusiontec Functional saucepan 16 cm.
Whisk the egg yolk in a bowl, pour in 1/3 hot milk, stirring constantly, then add all of the ingredients into the rest of the hot milk and beat vigorously.
Put the tonka sauce through a sieve. Leave to cool a little and stir occasionally so that it does not form a skin.
Finally, when serving, pour the tonka sauce over the still slightly warm sweet rolls.
---
Preparation time: 2 hours, incl. rising and baking times
---