Sweet vegan raclette
---
---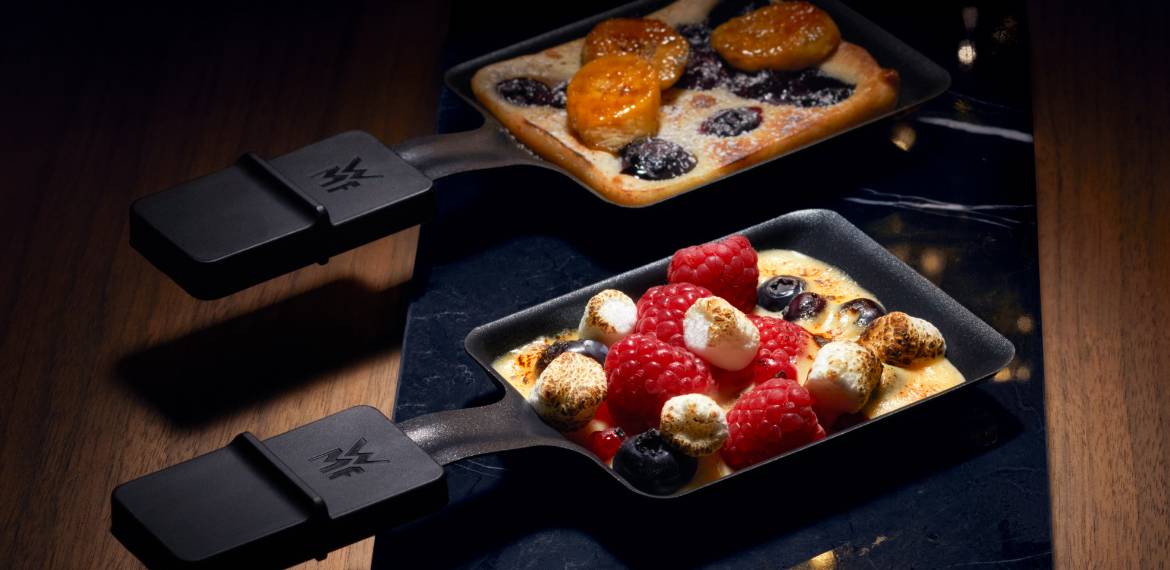 ---
Ingredients
8 baby bananas

Brown sugar for caramelizing


For the vegan blueberry pancakes:

200 g
wheat flour
1 tsp.
backing powder
1 packet
of vanilla sugar
1 pinch
of cinnamon
2 tbsp.
apple sauce
½ tsp.
salt
1 tbsp.
sunflower oil
250 ml
non-dairy milk
Frying oil
100 g
blueberries


For the vegan zabaione:

100 g
cashew nuts soaked overnight
30 ml
Amaretto
1 pinch
of saffron
1 pinch
of salt
6 tbsp.
silken tofu
2 tbsp.
starch flour
½
vanilla pod
250 ml
water
120 g
sugar
1 tsp.
lemon peel (optional)

For the gratinated mascarpone pears:

1
pear
100 g
vegan mascarpone
2 tbsp.
water
1 tbsp.
agave syrup
1 tbsp.
lemon juice
Icing sugar (for caramelizing)


Decoration and topping as desired:

Vegan gummy bears
Salted pretzels
Walnuts
Mixed berries
Vegan mini marshmallows
Caramel sauce
Chocolate sauce
Strawberry sauce
---
Preparation
1. For the zabaione, puree all the ingredients in a blender until very creamy. Put the mixture in a bowl and place over a pot containing slightly simmering water. Now beat the mixture with the whisk until it begins to thicken. Gently heat while stirring constantly until the mixture is viscous. Let the cream rest for a few minutes and stir gently again before use. Now the zabaione can be used to gratinate fruit and biscuits, for example. To do this, put 3 tbsp. of zabaione in a raclette pan, add white berries and marshmallows for example, as desired, and gratinate for a few minutes.
2. For the pancakes, put all the ingredients (except for the blueberries) in a mixing bowl and mix well with a whisk. Add a very slight amount of oil to the raclette pan, fill with 2–3 tbsp. of dough, sprinkle a few blueberries on top and bake for 10 minutes. Refine with a topping of your choice.
3. For the gratinated mascarpone pears, cut the pears into slices. Mix the vegan mascarpone with water, lemon juice and agave syrup. Caramelize the pears on the grill surface with a little icing sugar. Then gratinate with mascarpone and walnuts in the small raclette pan. Halve the bananas and sprinkle the grill plate of the raclette with icing sugar. When it has melted and has turned a light brown color, place the bananas on top and fry for a few minutes. The bananas that are prepared this way can be used to garnish the pancakes or be eaten as a side dish.
Bon appetit! Have fun cooking!
---