Product details
Highlights
Length: 23.2 cm. - item number: 1274596040
Material: Cromargan stainless steel
Design: Jette Joop.
Jette collection
As a German brand WMF is known for its versatile stylish range of products and reliability in quality and finish. For over 160 years WMF has been making cooking, dining and drinking a real experience whilst maintaining professional standards and progressing manufacturing technologies.
Product description
Zu einer leckeren Torte gehört ein schöner Tortenheber. Das flache Dreieck des Besteckteils gleitet mühelos unter jedes einzelne Stück und hebt es behutsam auf den Teller. Viereckige Kuchenstücke, Muffins oder Gebäck serviert der Tortenheber darüber hinaus ebenso souverän wie Pizza, Flammkuchen, Pasteten und sogar Lasagne. Die WMF Modelle sind in verschiedenen Designs erhältlich – als Ergänzung einer Kollektion oder als Einzelstück.
Ein wenig Glamour gefällig? Die Designerin Jette Joop hat für WMF ein Besteck entworfen das diesem Wunsch entspricht. Und das auf ganz besondere Weise denn die plastisch herausgearbeiteten Facetten am Stielende erinnern an die Form eines Edelsteins. Die Grundform des Modells ist klassisch Proportionen und Länge entsprechen dem modernen Zeitgeist. Hochwertige Messer mit eingesetzter geschmiedeter Klinge gewährleisten eine langanhaltende Schneidfähigkeit und die Veredelung mit poliertem Cromargan protect® verleiht dem Besteck seine extreme Kratzbeständigkeit. Vor allem an festlich gedeckten Tafeln hat das Besteck seinen Platz – gut dass Sie von diesem Modell eine Vielzahl an Ergänzungsteilen erhalten.
Specifications
| | |
| --- | --- |
| SKU: | 3201002392 |
| Alte Art. Nr.: | 12.7459.6040 |
| EAN | 4000530625502 |
| Brand | WMF |
| Collection | Jette |
| Size sets | 1-pc. |
| Material | Cromargan protect |
| Length (cm) | 23.2 |
| Color | stainless steel |
| Care | Dishwasher safe |
| Designer | Jette Joop |
Cromargan protect
WMF Cromargan® Protect Technology
Cutlery that always looks as good as new even after years of use – no longer just wishful thinking but now a reality. WMF Cromargan protect means the surface of the cutlery items always looks flawless. The passing of time hardly leaves a trace, even after extended use.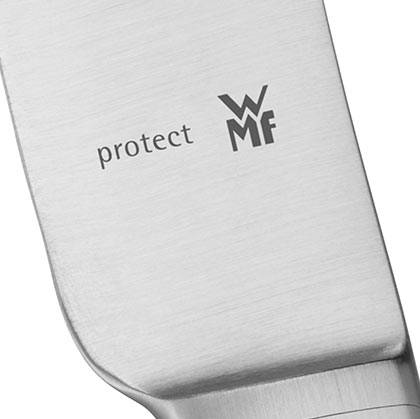 When WMF was the first company to use stainless steel for the manufacturing of cutlery and household appliances more than 80 years ago, this marked the start of one of the most progressive chapters in the history of cooking and housekeeping. The material, which is known by the name Cromargan®, cannot tarnish, is rustproof, acid-resistant, unbreakable, easy to clean and so is extremely durable.
150 years after its first cutlery model was launched onto the market, in 2009 WMF introduced cutlery finished with Cromargan protect. Cromargan protect is produced using a thermochemical treatment process. This involves adding nitrogen to stainless steel at high temperatures, which penetrates into the material and results in a much harder surface after it cools down. This makes the material extremely resistant against signs of wear, and means it still looks as good as new even after years of use. Even intensive use and frequent cleaning in the dishwasher has no adverse effects. Polished surfaces never lose their shine, and matt surfaces stay matt. A brilliant innovation, which is patented and internationally protected by the WMF brand.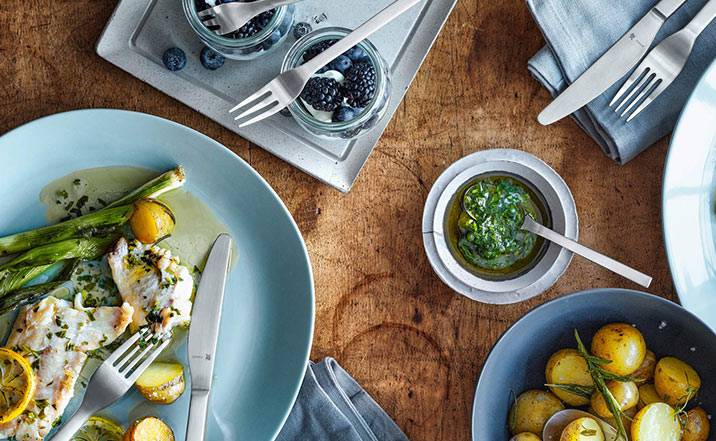 Your cutlery stays looking as beautiful as on the day you bought it.
Extremely resistant to scratches and signs of wear and tear

Polished surfaces stay shiny, matt finishes stay matt.

Knife blades made of high-grade special blade stay sharp for longer

Rustproff and dishwasher safe.

Unique WMF design that gives you pleasure every day.
View Reviews (0)

Your review