Tuna with pak choi and mushrooms
---
---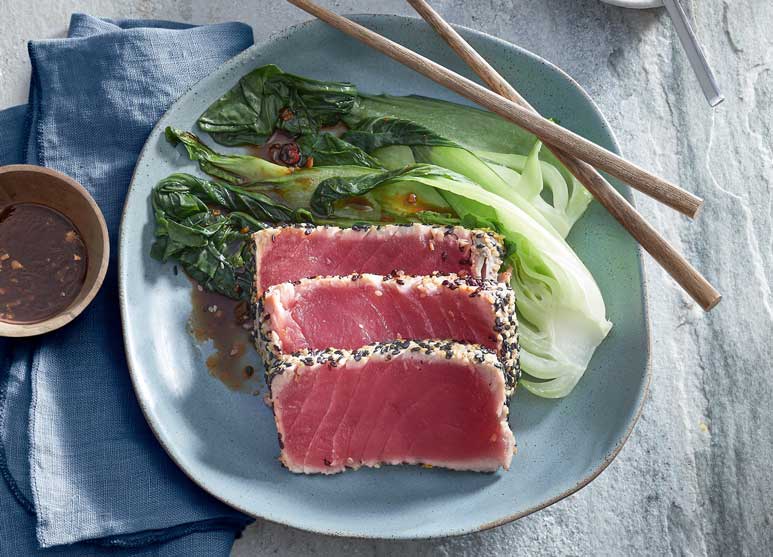 Ingredients:
4 tuna fillets, each approx. 200 g
300 g mixed mushrooms e.g. enoki, shitake, oyster mushrooms, champignons
4 medium pak choy
2 tbsp. white sesame seeds
2 tbsp. black sesame seeds
Soy sauce
Sesame oil
Zest of one organic orange



For the sauce:

3 tbsp. salty soy sauce
3 tbsp. sweet soy sauce
1 tbsp. lemon juice
Chili, finely diced
1 tsp. brown sugar
1 tbsp. sesame oil
Coriander, finely chopped
---
Preparation:
For the sauce, mix all the ingredients together and leave to infuse briefly.

Then, depending on their size, leave the mushrooms whole or cut them in half or into rough strips, sear at 200°C seasoned with soy sauce and leave to cook at 50°C.

Halve the pak choi, brush lightly with sesame oil and fry gently at 100°C until al dente.

Finally, turn the tuna fillets in the mixed sesame seeds and grill at a hot temperature of 200°C for approx. 1–2 minutes with a little sesame oil. The fillets may still be raw on the inside.

Serve with the sauce and a little orange zest.
Jasmine rice is an ideal accompaniment.


Preparation time:
approx. 30 Minutes
---