Veal cutlet with lukewarm radicchio and orange vegetables
---
---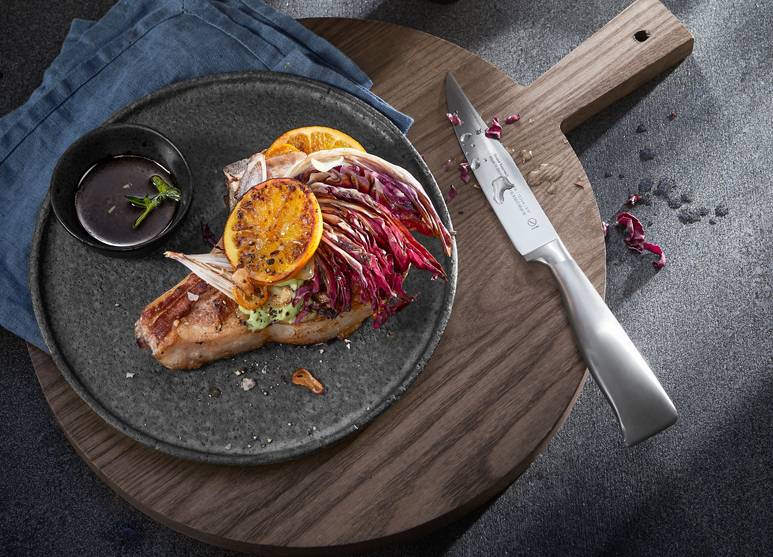 Ingredients:

4 veal cutlets
1 head of radicchio
3 organic oranges
8–10 kumquats
1 avocado
4–6 shallots
2 garlic cloves
Extra virgin olive oil
Salt
Pepper
Vanilla sugar
Honey
Basil
---
Preparation
Slice the shallots and fry them in a little olive oil at 150°C. If desired, fry together with sliced garlic.

Cut an orange with its peel into slices, fry at 150°C and season with coarse pepper and a little vanilla sugar. Keep both warm on the side (50°C).

Fillet the remaining oranges, slice the kumquats (remove the seeds), cut the radicchio into eighths and gently roast everything together at 100°C. Season with salt, honey, orange zest and pepper. Also keep warm on the side (50°C) and drizzle with olive oil just before serving.

Sear the veal cutlets for approx. 90 seconds on each side at 300°C, then finish cooking to the desired level on the grill at 150–200°C. A meat thermometer helps to determine the exact level of cooking.

Layer the cutlets with a slice of orange, avocado (in wedges or coarsely mashed), garlic, shallots and basil. Season with salt and pepper and serve with the lukewarm vegetables.

Fresh farmhouse bread is an ideal accompaniment.
Preparation time
Approx. 40 minutes
---