Colourful vegetable linguine salad with creamy cashew dressing
---
---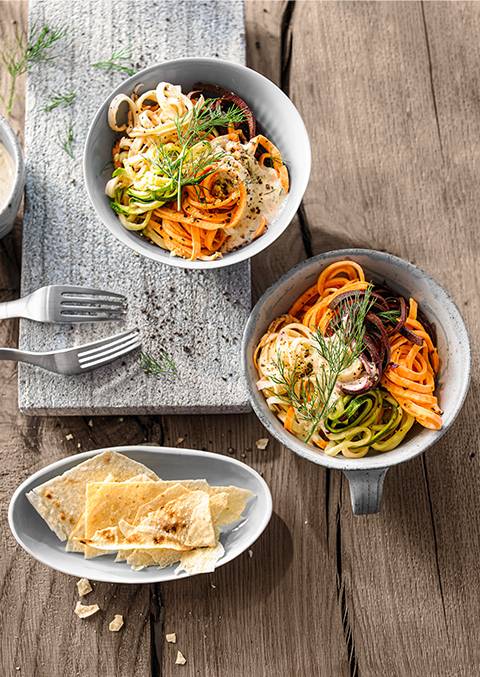 Salad

2 medium-sized, slender sweet potatoes (total 500 g)
1 medium-sized parsnip (200 g)
3 large heirloom carrots (purple variety, total approx. 550 g)
1 small green or yellow courgette (150 g)
2 tsp. salt
1 tbsp. maple syrup




Dressing

2 small garlic cloves
1 organic lime
4 tbsp. cashew paste (at room temperature)
1 tbsp. linseed meal
2 slightly heaped tsp. medium-strength mustard
½ tsp. salt
2 tsp. instant vegetable Stock




Plus

1 bunch dill
---
Preparation
Peel the sweet potatoes, parsnip and carrots. Trim off the stem and blossom ends of the courgette.

Spiralise the vegetables using the WMF spiraliser and cutting insert number 2 for linguine. Reduce the pressure on the plunger from time to time so that the vegetable pasta does not become too long. Carefully fold the salt and maple syrup into the spirals by hand and set aside.

For the dressing, peel the garlic and chop into coarse pieces. Wash the lime in hot water and dry, grate the zest and squeeze out the juice using the citrus juicer attachment.

Place all the dressing ingredients, except the grated lime zest, in a high mixing bowl together with 200 ml water and purée into a smooth sauce using a stick blender.

Wash the dill, shake dry, chop finely and fold into the dressing. Add the grated lime zest and season with freshly ground black pepper to taste. Pour the dressing over the vegetable pasta and fold in carefully. Serve immediately.
Preparation time
25 minutes
---