Vegetarian brioche with pear and walnut
Homemade - enjoy the full grill variety.
---
---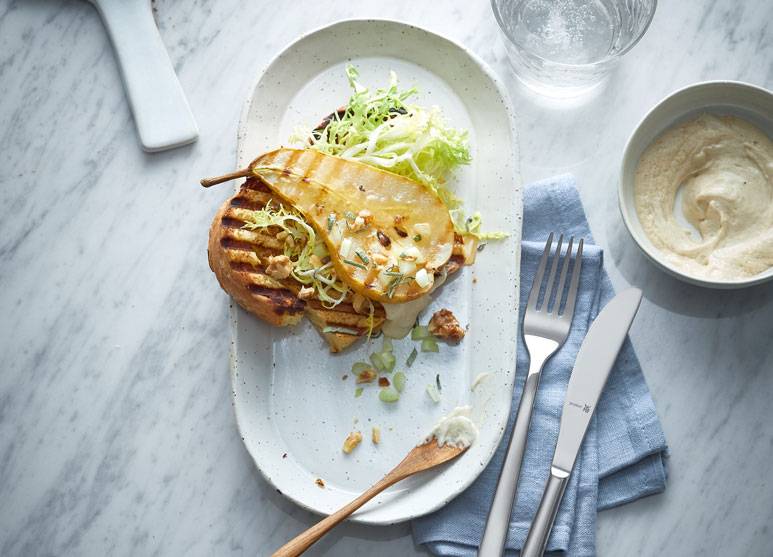 Ingredients:
1 brioche
2-3 fragrant pears
Frisée lettuce
150 g walnuts
2 EL brown sugar
Sage
6 EL almond paste
6 EL sourcream
(use soy yogurt for a vegan version)
Wasabi
Fleur de Sel
Salt
Pepper
---
Preparation
For the wasabi cream, mix together the almond paste, sour cream and wasabi, and season to taste with salt and pepper. Gently melt the sugar in a non-stick frying pan, add the walnuts and caramelize. Quickly distribute onto baking parchment and sprinkle a little fleur de sel on top. Once the caramelized walnuts have cooled down, roughly chop them.

Cut the brioche into slices around 3 cm thick. After preheating the WMF ProfiPlus Contact grill, select the "Manual" program and briefly grill the brioche until the desired level of browning. Attention: it quickly goes dark!

Cut the pears into slices around 1 cm thick and grill them also using the "Manual" program.

Spread the wasabi cream onto the grilled brioche slices. Together with frisée lettuce, top with the grilled pears and caramelized walnuts, and season with chopped sage, salt and pepper.



Preparation time
Approx. 30 minutes
---