WMF recipe for succulent dough bread
---
Freshly baked bread – its wonderful aromas fill your home. It also tastes much better than industrially produced bread. And the best thing about it: this recipe only takes 5 minutes to prepare. Here's what you need...
---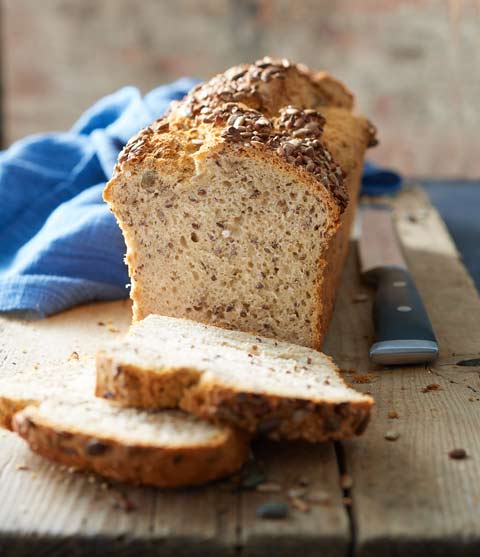 Ingredients for 1 tin loaf
1 cube fresh yeast (42 g)
450 ml lukewarm water
1 pinch sugar
500 g spelt flour
150 g wheat flou
150 g seeds (e.g. sunflower seeds, pumpkin seeds, sesame seeds or similar)
2 tsp. salt
2 tsp. vinegar
---
Preparation instructions
For this recipe, we used the WMF Profi Plus Kitchen machine and a Bread baking pan 30 cm from KAISER.
Preparation
Step 1: Mix the yeast with water. Add all other ingredients and knead with the dough hook on a medium speed setting for about 2 minutes. After kneading, the dough should have a smooth consistency.

Step 2: Lightly grease the loaf pan and then line it around the edges with baking paper. This makes it easier to remove the bread from the pan after baking and gives it a more even appearance.

Step 3: Pour the dough into the mould and sprinkle with seeds as desired. Place in a cold oven and then bake at 200°C top/bottom heat for approx. 60 minutes. Remove the bread from the pan and bake for another 10 minutes if necessary.

Tips & Tricks
If you put a cup of hot water in the oven during baking, the bread will have an even crispier crust. You can also brush the surface of the dough with a little water.
The bread dough can be varied in many ways, depending on the time of year and season. Add diced onions and bacon for a hearty bread or add olives and dried tomatoes for a Mediterranean touch. Simply knead into the bread dough shortly before the end or sprinkle on top – and you're ready to bake.
---
Explore more recipes
---