WMF knife production in Hayingen
WMF operates one of Germany's largest blade forges in Hayingen, a small town in the heart of the Swabian Alps. When production first began in 1962, the company made blades for table knives. Since 1977, the factory has been manufacturing quality kitchen knives, which have become a successful product segment within the WMF brand. Eventually, the existing production lines were unable to keep up with the strong demand, resulting in the expansion of the site in mid-2016.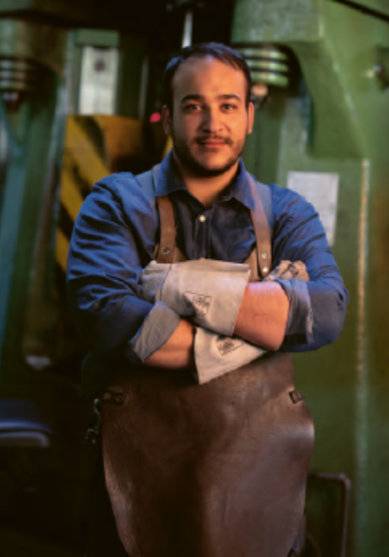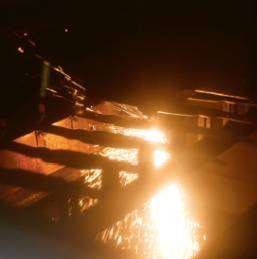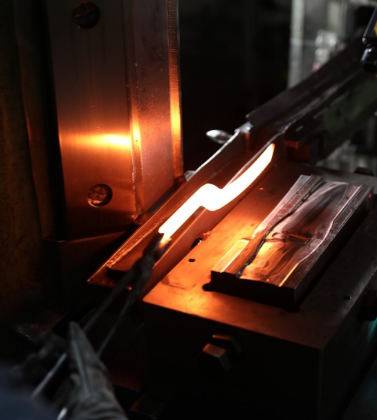 1. Forging: The red-hot blank is worked along its entire length using a forging hammer.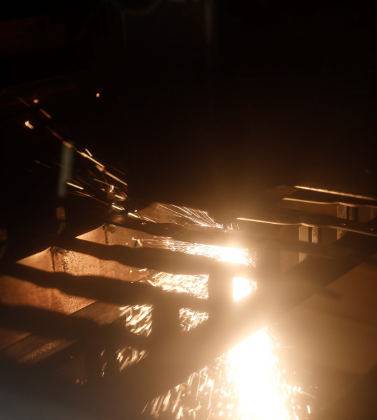 2. Contour lasering: The blank is lasered into the final shape of the blade.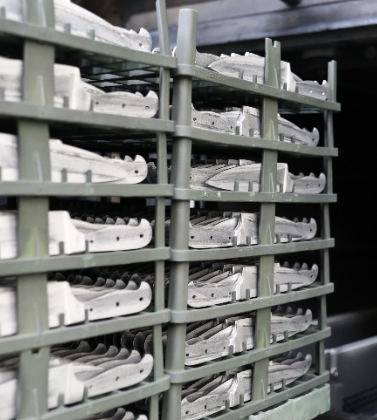 3. Heat treatment: Every blade obtains its ideal hardness and flexibility in the special furnace.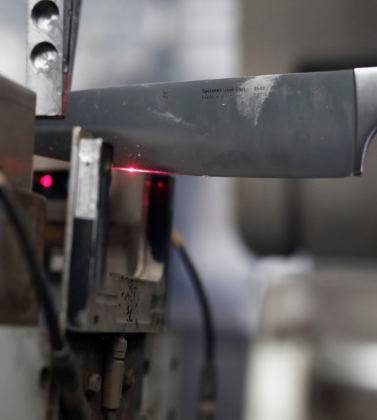 4. Grinding the cutting edge: Exact determination of the perfect cutting angle by laser and the final precision cut.
WMF Performance Cut technology
WMF knives are extremely robust and their long-lasting, outstanding sharpness ensures that they really shine. The secret behind this is a fusion of traditional drop forging and modern precision technology. High-quality hardened special blade steel is the basis for all knives forged from one piece with WMF Performance Cut.

After forging, the blades enter a special furnace for heat treatment. The benefit: The material structure of the blade steel changes, causing the steel to become harder so that it can be ground at a sharper angle. For this, every blade is measured individually by laser to determine the optimum cutting angle.

During the last grinding cycle, every knife is then processed by a grinding robot, which gives it its perfect, ultra-precise cut. As a result, every blade with WMF Performance Cut is extremely sharp and remains this way for longer. They even far exceed the DIN standard for cutting performance.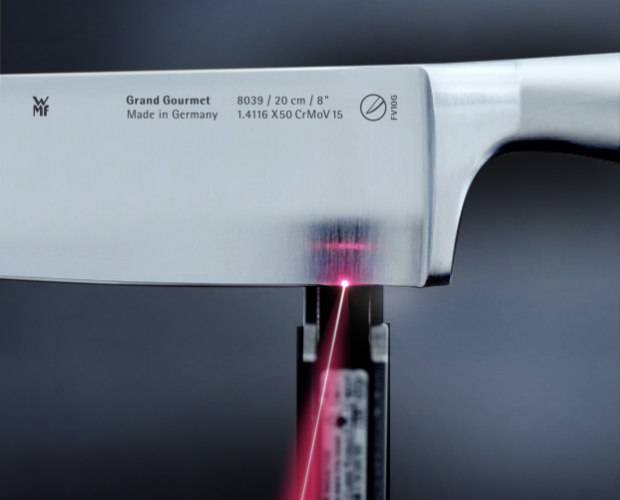 Storage and care: Keeping knives sharp for longer
In order to enjoy high-quality knives on a long-term basis, there are a few simple things to consider. Here is the correct way to handle the knife: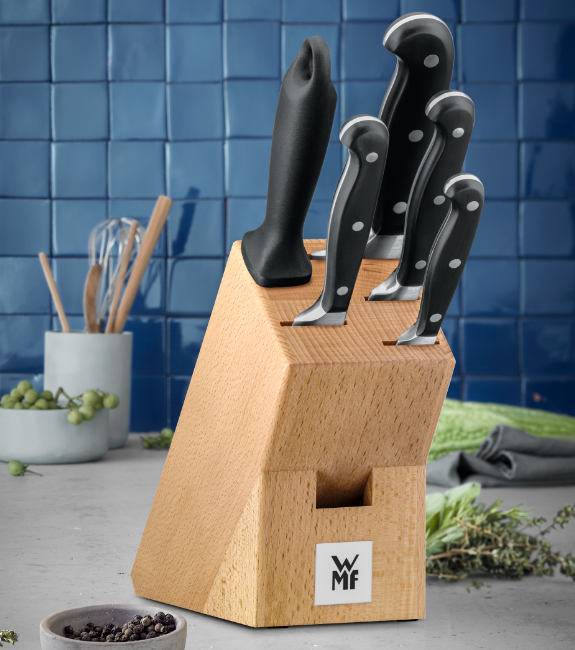 1. Cleaning
After use, knives should be cleaned and dried by hand, preferably with a microfibre cloth. Please note: Do not soak knives in a water bath or put them in the dishwasher. Although most knives are dishwasher-safe, there is a risk of a film of rust accumulating on the blade. In addition, the blades quickly become dull when they hit cutlery or crockery.

2. Storage
Good knives should not be stored loose in the cutlery drawer: The quality suffers when the blades are knocked against each other and they become blunt more quickly. It is better and safer to store them in a knife block or on a magnetic knife rack, where they are always close to hand while staying well protected. Knife blocks are available in many designs, and therefore fit into every kitchen.

3. Sharpening
Caring for a good knife also involves regular regrinding so that it does not become dull in the first place. All you need is a sharpening steel and a little practice. But be careful: Only knives with a smooth cutting edge can be sharpened with this tool; knives with serrated or double-sided blades are not suitable for sharpening using the sharpening steel.
---
A short blade guide: cutting, rocking and sawing correctly
But which knife is best suited to which ingredients? This overview demonstrates and explains the best knife for preparing each particular ingredient with speed and ease.









There should always be a good all-rounder to hand in the kitchen for preparing meat, fish, vegetables and herbs. The classic chef's knife with its 20-cm-long blade, convex to the tip, is ideal for cutting ingredients with a rhythmical rocking motion.

An alternative is the wider and much less curved Santoku knife, which cuts with light pressure along the entire blade. The straight Chinese chef's knife can also be used for chopping. The benefit of this trio of knives: The chopped meat can be transported to the pot or pan on the wide side of the knife.

If these knives are too large for you, it might be worth considering a compact utility knife with a blade length of 15 cm or even shorter. This also allows deep cuts to be made, such as when larding meat.

The short, straight blade of the vegetable knife performs best when trimming vegetables, as the knife is stable and fits well in the hand.

When it comes to preparing meat and fish, carving knives, filleting knives and boners are the perfect tools. With their slender, flexible blades, these knives run well along a bone or tendon with a little pressure.

Peeling knives or parers can be quickly recognised by their short, beak-shaped curved blade, which can easily trace the curves of ingredients such as apples.

The lightly serrated edge of the tomato slicer makes it easy to cut all kinds of vegetables with a hard skin and a soft interior without squashing them. Thanks to the deep serrated edge, a bread knife cuts straight on, and can easily cut through hard crusts of bread. But that's not all it can do - even delicate croissants retain their airy lightness.
---
Cutting correctly – a guide
EA knife can best show off its skills when the right technique is used for cutting. Whether rocking, chopping or pulling without pressure – this video shows you how it's done.

Tip: Sharp blades are sensitive. Use a chopping surface that is gentle on the blade. Wood, bamboo or high-quality plastic are the preferred materials for chopping boards.
The gentle surface protects the blades and provides the ideal base for cutting, chopping and shredding. Boards made of glass, marble, porcelain or ceramic are not suitable chopping surfaces.
---
Checklist: These knives belong in every well-equipped kitchen
Whether cutting tomatoes, dicing onions, peeling apples, filleting meat or chopping herbs: Having the right tool is everything when it comes to preparing ingredients. Not every knife is suitable for every type of application.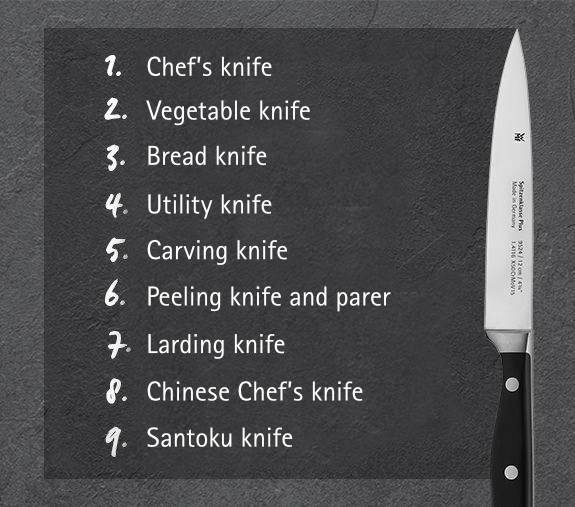 Which knives you really need depends on individual preferences and the frequency of use. Our checklist is designed to help you to put together your own personal knife set.

The absolute basic equipment for every household should include a chef's knife, a fruit and vegetable knife and a bread knife. The chef's knife is considered a practical all-rounder, with a wide blade for a wide variety of cutting techniques. It is available in different lengths; we recommend starting with a chef's knife with a 20 cm blade. If you cook a lot, you could also get a second knife with a shorter blade.

Utility knives, carving knives and parers are just as much part of the basic equipment for amateur cooks as the larding knife. With their special blades, Asian knives such as the Chinese chef's knife and the Santoku knife are also becoming increasingly popular outside of the region. This is an investment that really pays off for passionate cooks, as these knives last a lifetime and are extremely versatile.

Don't forget: A sharpening steel and suitable chopping boards are also key features of every kitchen.
---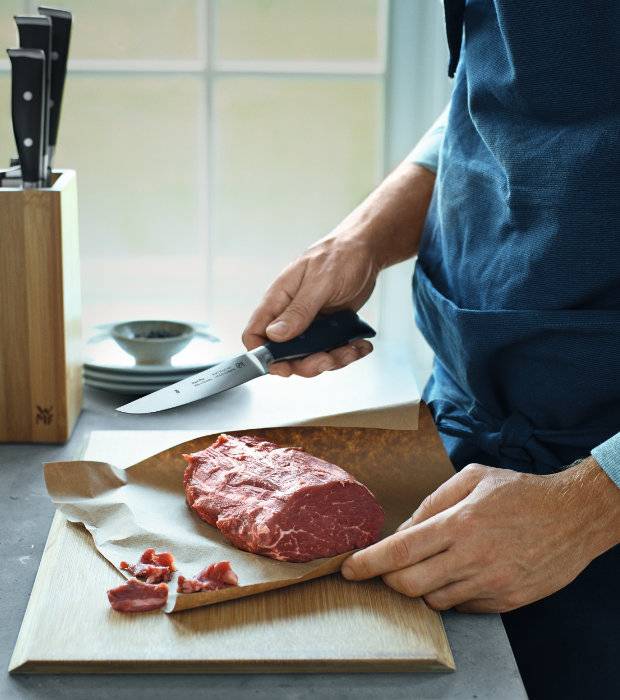 WMF Grand Class
WMF Grand Class knives are impressive in every way, from their look and feel to their functionality and sharpness. Thanks to an ergonomically-shaped handle, the knives from this series sit perfectly in the hand. The traditional riveted look is a sign of forged craftsmanship. The handles made of high-quality special synthetic material are distinguished by their seamless finish. The blades are made using Performance Cut technology. They are sharp and stay sharp for a long time. The WMF Grand Class series comprises 13 different knives and includes all common blade shapes. From the classic chef's knife, bread knife and carving knife to the steak or Santoku knife, this range is guaranteed to include the right knife for everyone.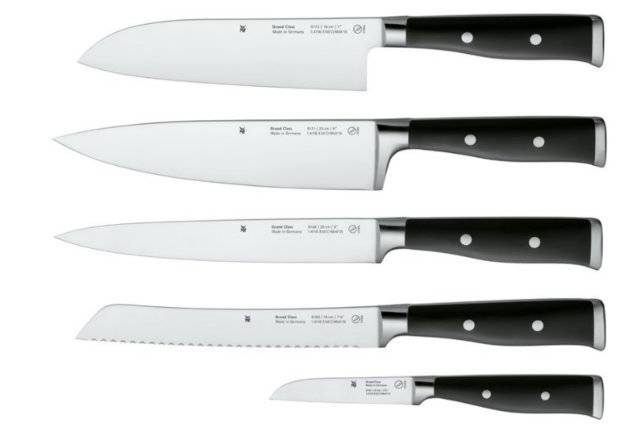 WMF Spitzenklasse Plus
With more than 20 different knives to choose from, the WMF Spitzenklasse Plus collection has the right equipment to enable passionate chefs to prepare delicious food, with everything from the classic chef's knife, bread knife and utility knife to the Chinese chef's knife. These forged steel knives with a rivet design are made of special blade steel, sit comfortably and securely in the hand and impress with their professional design. To enable you to enjoy using your knives for many years, we recommend cleaning them by hand and storing them in a special knife block.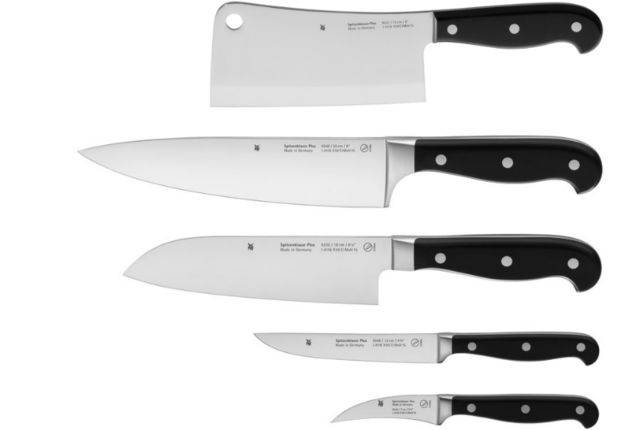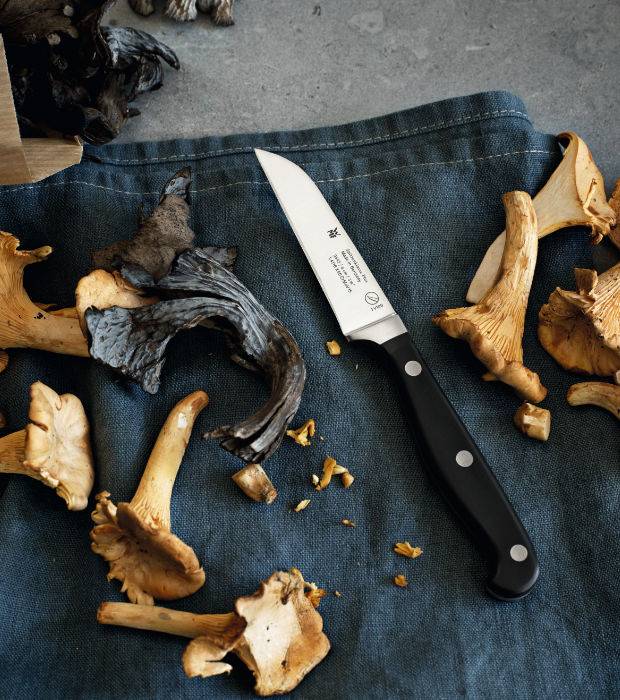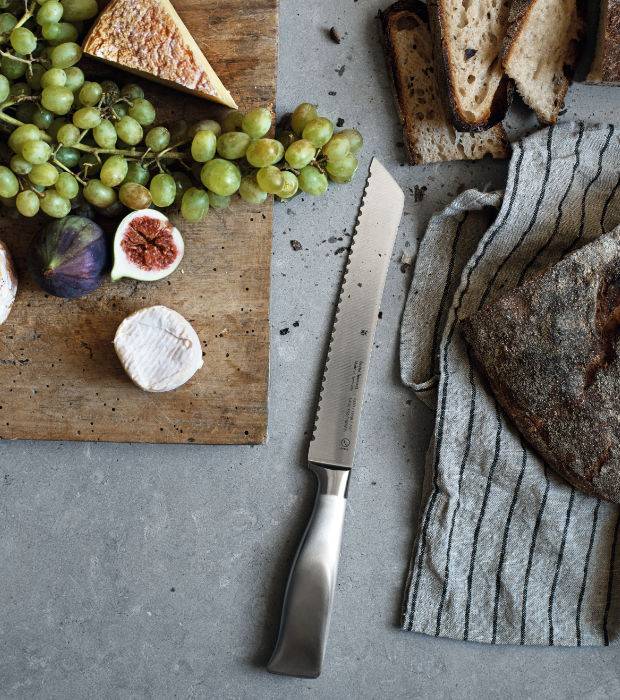 WMF Grand Gourmet
The WMF Grand Gourmet collection provides a wide variety of crafted knives that impress through their elegant stainless steel look and exceptional cutting qualities. Thanks to their seamless finish, the knives have optimal hygiene properties. The precise craftsmanship of the bolster – the connection between the blade and the handle – ensures that the knife is completely balanced when cutting. Knife lovers will find everything they need among the 16 products that make up the Grand Gourmet collection, including a larding knife, a Chinese chopping knife as well as steak knives.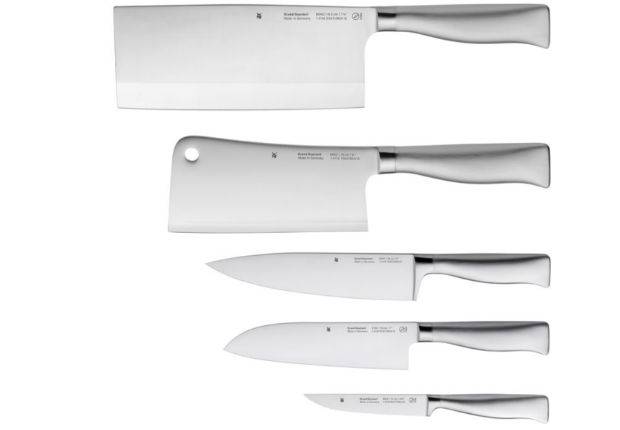 WMF Chef's Edition
The WMF Chef's Edition knife series is the ideal partner in the kitchen for real cooking professionals who are looking for ultimate cutting precision as well as elegant design. The fluid transitions between the knife blade and the bolster as well as along the back of the knife ensure that the knife nestles perfectly in the hand. This seamless finish is characteristic of the unique design of these knives and also facilitates hygienic cleaning.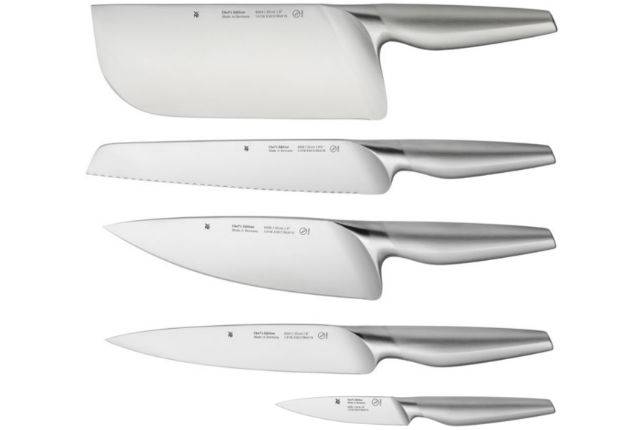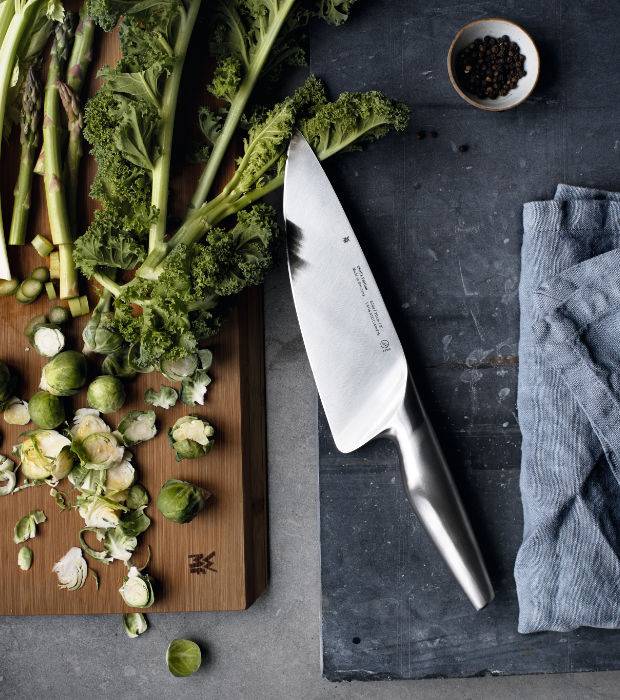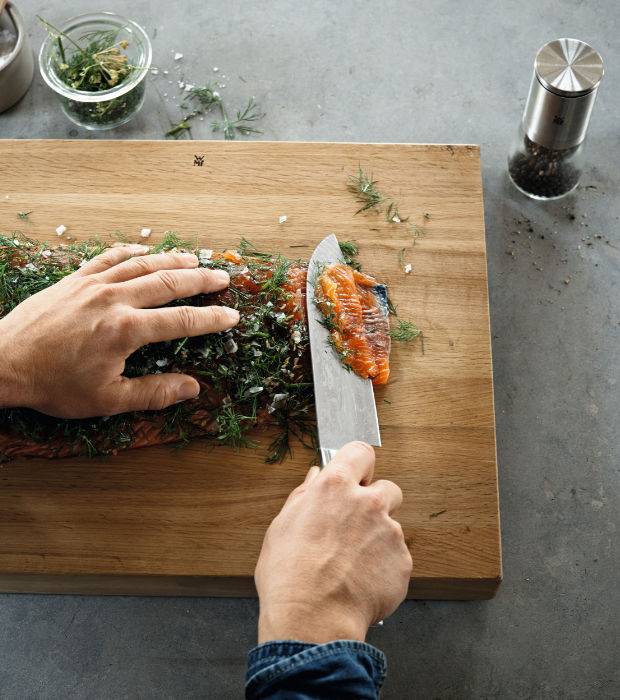 WMF Damasteel
An absolute highlight among WMF's cutting implements: the Damasteel knife collection. State-of-the-art technology is used to fuse a variety of special steels into one single blade steel consisting of 120 layers. The result is unique blades combined with ergonomic Cromargan® handles that are extremely eye-catching, not least because of their decorative grain. No two blades are the same! But the collection isn't just wonderful to look at. Thanks to the Performance Cut technology, the knives are outstandingly sharp and remain so for a long time. The bolster – that is, the carefully crafted connection between the blade and the handle – makes the knives well balanced.