Zucchini rösti with carrot salmon and yogurt dip
---
---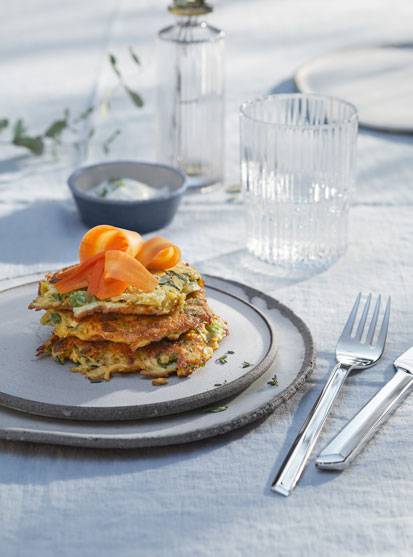 For the zucchini rösti:
250 g zucchini
150 g potatoes
Mint
Parsley
Chive
1 spring onion
70 g Parmesan
4 eggs
Approx. 70 g flour
Salt
Pepper
70 g edamame, blanched
Clarified butter or neutral
fryingoil


For the carrot salmon:
1 tbsp. ricevinegar
1 tbsp. soysauce
1 tbsp. lemonjuice
1 tsp. brownsugar
1/2 tsp. smokedsalt
1 tbsp. rapeseedoil
300 g carrots
For the yogurt dip:
1 pot of Greek yogurt
Garlic
Chives
Parsley
Lemon zest
Salt
Pepper
---
Preparation
Mix the rice vinegar, soy sauce, lemon juice, brown sugar, smoked salt and rapeseed oil to make a marinade. Cut the carrots into long, thin strips. This is best done with a cucumber slicer or a peeler. Blanch briefly and then marinate for at least 3 hours, preferably overnight.

For the yogurt dip, finely chop the herbs, mix with the remaining ingredients and season generously with salt and pepper.

For the zucchini rösti, coarsely grate the zucchini, sprinkle with salt and allow to infuse. Peel and roughly grate the potatoes. Squeeze the zucchini. Chop the herbs and spring onion, mix with the squeezed zucchini and the potatoes. Add the grated Parmesan, eggs and flour, and season with salt and pepper to taste. If the dough is too liquidy, add a little flour. Carefully fold in the blanched edamame.

Set the grill plate to 150°C and grease lightly with clarified butter or frying oil. When the temperature is reached, form small röstiwith a spoon and fry on both sides for 5-6 minutes.

Remove the carrot salmon from the marinade and place on top of the rösti. Serve with the dip.
Preparation time
Approx. 35 minutes incl. preparation
---