Product details
Highlights
Total length: 31.5 cm, blade length: 20 cm - item number: 1882046032 - Other knife types and set combinations are available for this knife collection. All knives from this collection are packaged in a precious gift box made of wood.
Material: Forged blade made of rust-free and acid resistant speciality blade steel. Long lasting sharpness thanks to the hardened blade. Handle without grooves made of high-quality rust-free Cromargan stainless steel.
Performance Cut technology: Combination of traditional forging processes with state-of-the-art precision technology for extraordinary long lasting sharpness.
Ergonomically shaped handle and perfectly balanced weight of blade and handle for comfortable handling. Jointless workmanship makes it perfectly sanitary - no noticeable transitions between blade, guard and handle. Cleaning the knife: Hand-wash.
Made in Germany - Knife in premium quality, manufactured at our own blade forge in Germany. The special design intuitively provides a professional holding of the handle.
Product description
Wie schon der Name vermuten lässt, ist ein chinesisches Kochmesser für die Zubereitung asiatischer Gerichte konzipiert. Doch das ist längst nicht alles. Denn aufgrund seiner Vielseitigkeit und seiner guten Handhabung schwören weltweit immer mehr Hobby- und Profiköche auf das exotische Modell. Die Form des chinesischen Kochmessers gleicht einem Beil, wobei es beim Hacken fester Lebensmittel nicht zum Einsatz kommt. Seine Schneide ist zu dünn, um Knochen zu zertrümmern, dafür jedoch prädestiniert für das exakte Zerkleinern von Gemüse und Fleisch sowie zum Hacken von Kräutern. Anders als das europäische Kochmesser ist die Klingenfläche der asiatischen Variante extrem breit. WMF bietet chinesische Kochmesser in verschiedenen Ausführungen, sodass Sie Ihren Messerbestand ganz individuell um diesen Spitzenkandidaten erweitern können.
Bei dieser Messer-Serie ist der Name Programm: Die Chef's Edition wurde für Kochprofis entworfen und für all jene die beim Schneiden höchste Präzision wünschen. Die Idee zur Kollektion entstand nach einem Workshop zu Handhaltung und Technik beim Schneiden. Denn Profiköche halten breite Messer zwischen Daumen und Zeigefinger am Übergang zum Kropf – genau dort also wo sich bei üblichen Messern eine scharfe Kante findet. Diese Erkenntnis führte zur Entwicklung von Schneidewerkzeug mit fließenden Übergängen zwischen Klinge und Kropf sowie am Messerrücken. Ohne scharfe Kanten schmiegen sich die Messer der Chef's Edition perfekt in die Hand und schneiden mühelos dickstes Fleisch und knackigstes Gemüse. Dank der fugenlosen Verarbeitung der Edelstahlgriffe sind die Modelle besonders pflegeleicht und hygienisch. Zur Serie gehören je ein Spick- und Allzweckmesser Koch- Fleisch- und Brotmesser sowie ein chinesisches Kochmesser. Alle Klingen wurden mit Performance Cut gefertigt und ermöglichen so auf lange Zeit überragende Schärfe. Neben ihren haptischen und funktionalen Eigenschaften gefällt die Chef's Edition auch durch moderne Optik.
Specifications
| | |
| --- | --- |
| SKU: | 3201002716 |
| Alte Art. Nr.: | 18.8204.6032 |
| EAN | 4000530677693 |
| Brand | WMF |
| Collection | Chef's Edition |
| Size sets | 1-pc. |
| Material | Special blade steel, forged |
| Product properties | Performance Cut |
| Length (cm) | 31.5 |
| Blade-length (cm) | 18.5 |
| Color | stainless steel |
| Care | Wash by hand |
| Design Award | iF design award iF Hannover 2015 |
Performance Cut
WMF Performance Cut Technology
Cut for as long as you want. Your knife always stays uniquely sharp.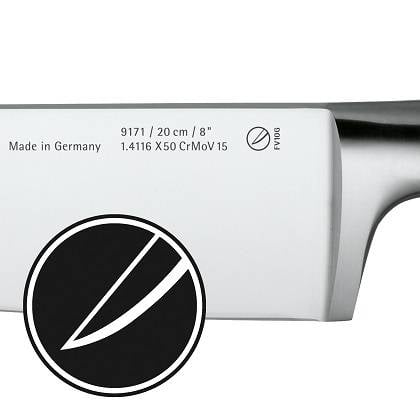 What does Performance Cut Technology mean?
It is the combination of the traditional forging process with the latest precision technology. It is, for instance, a new, innovative finishing of the steel and a high-precision sharpening process of the blades. This results in knives with an optimal cutting angle, which remain sharp for an unbelievably long time.
Cut for as long as you want. Your knife always stays uniquely sharp.
Performance Cut combines traditional forging methods with the latest developments in precision technology.

Performance Cut technology for outstanding and long-lasting sharpness.

Blades made of forged special blade steel.

Sturdy and corrosion-resistant.
Traditional forging craft and the latest 'Made in Germany' technology
Traditional forging craft and the latest 'Made in Germany' technology
WMF follows the tradition of cutlers and uses particular care for this craft. From 2014, the company will combine the traditional art of forging with the latest precision technology in manufacturing. Tests show that WMF household knives that are made with this Performance Cut Technology exceed the standard for cutting performance by double.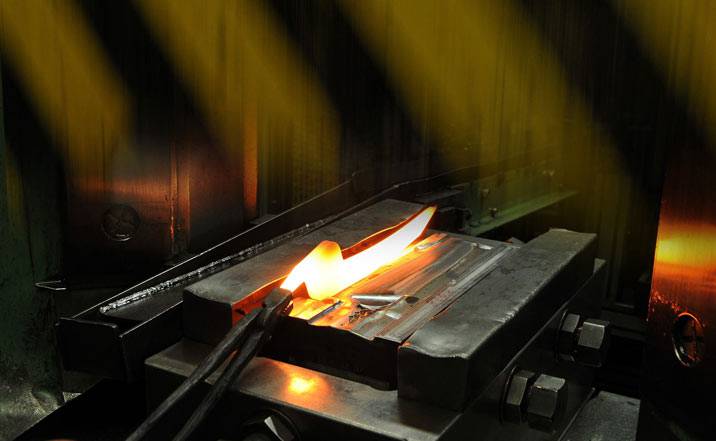 In Hayingen, a small town in the middle of the Swabian Alb, WMF operates one of the largest blade forges in Germany. Annually, hundreds of thousands of knives are made in the company's own factory according to the traditional drop forging process. In this process, blades made of special blade steel are worked over the whole length with the forging hammer. About 30 work steps are required before the customer is holding a knife of the highest quality in their hands: From the examination of the raw material to the packaging and shipping of the knife.
Every work step is subject to strict quality controls. Only in this way can WMF ensure the high quality standard at every phase of the manufacturing process. The result is 'Made in Germany' knife blades that are phenomenally sharp, precise in their cut and retain their cutting performance for a long time.
Performance Cut Technology WMF knife series
View Reviews (0)

Your review