Product details
Highlights
Material: Cromargan protect Edelstahl mattiert
Rostfrei und formstabil
Säurefest, unverwüstlich und extrem kratzresistent
Spülmaschinengeeignet
Designpreise: iF design award: iF Hannover, 2016; German Design Award Winner 2017
Product description
Die Kuchengabel wird, wie der Name schon sagt, für Kuchen aller Art und verschiedene Torten verwendet. Die Kuchengabel eignet sich zudem auch für Desserts, Vorspeisen und Häppchen. Sie hat meistens drei Zinken, die dem Zerteilen und anschließendem Aufnehmen der Speise dienen. Der vordere Bereich der Kuchengabel ist kleiner und schmäler als bei der herkömmlichen Menügabel. Sorgfältig definierte Proportionen schaffen eine visuelle und haptische Balance. Ecken und Kanten sind präzise, aber gleichzeitig sorgfältig verrundet und abgeschrägt. Die dezente Wölbung an der Griffunterseite gleicht die formale Strenge aus und schmiegt sich angenehm an die Hand an. Zu jeder WMF Besteck-Kollektion gibt es die passende Kuchengabel.
Edel, puristisch und alles andere als kühl: Das Besteck-Set Linum aus dem Porsche Design Studio ist ein echter Hingucker am Esstisch. Die mattierten Oberflächen wirken in Verbindung mit den wohldefinierten Proportionen harmonisch, sind gleichzeitig robust und absolut alltagstauglich. Die Ecken und Kanten des mit dem iF Design Award ausgezeichneten Bestecks wurden präzise ausgearbeitet und leicht abgeschrägt. Die dezente Wölbung an der Griffunterseite liegt angenehm in der Hand und macht Messer, Gabel und Löffel zu wahren Handschmeichlern, die man immer wieder gerne anfasst und benutzt.
Specifications
| | |
| --- | --- |
| SKU: | 12.0264.6330 |
| EAN | 4000530695260 |
| Brand | WMF |
| Collection | Linum |
| Size sets | 1-pc. |
| Scope of delivery | 1x Kuchengabel (16 cm) |
| Material | Cromargan protect |
| Material property | Stainless steel, matt |
| Length (cm) | 16 |
| Width (cm) | 2.1 |
| Height (cm) | 2 |
| Gross weight (g) | 22,7 |
| Color | stainless steel |
| Care | Dishwasher safe |
| Designer | Porsche Design Studio |
| Design Award | German Design award, iF design award 2016 |
Cromargan protect
WMF Cromargan® Protect Technology
Cutlery that always looks as good as new even after years of use – no longer just wishful thinking but now a reality. WMF Cromargan protect means the surface of the cutlery items always looks flawless. The passing of time hardly leaves a trace, even after extended use.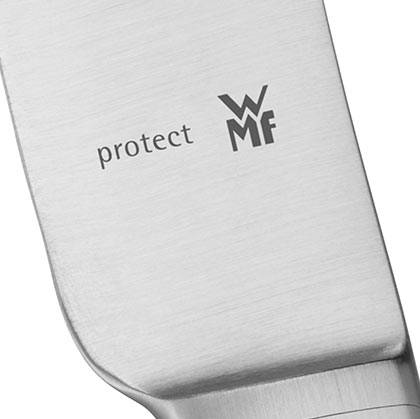 When WMF was the first company to use stainless steel for the manufacturing of cutlery and household appliances more than 80 years ago, this marked the start of one of the most progressive chapters in the history of cooking and housekeeping. The material, which is known by the name Cromargan®, cannot tarnish, is rustproof, acid-resistant, unbreakable, easy to clean and so is extremely durable.
150 years after its first cutlery model was launched onto the market, in 2009 WMF introduced cutlery finished with Cromargan protect. Cromargan protect is produced using a thermochemical treatment process. This involves adding nitrogen to stainless steel at high temperatures, which penetrates into the material and results in a much harder surface after it cools down. This makes the material extremely resistant against signs of wear, and means it still looks as good as new even after years of use. Even intensive use and frequent cleaning in the dishwasher has no adverse effects. Polished surfaces never lose their shine, and matt surfaces stay matt. A brilliant innovation, which is patented and internationally protected by the WMF brand.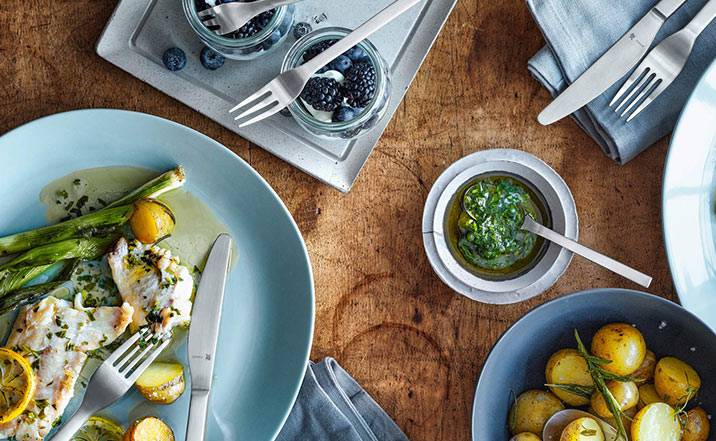 Your cutlery stays looking as beautiful as on the day you bought it.
Extremely resistant to scratches and signs of wear and tear

Polished surfaces stay shiny, matt finishes stay matt.

Knife blades made of high-grade special blade stay sharp for longer

Rustproff and dishwasher safe.

Unique WMF design that gives you pleasure every day.
View Reviews (0)

Your review