Product details
Highlights
Total length: Approx. 36 cm, blade length: 23 cm - item number: 1895946030
Handle made of high-quality plastic.
Suitable for all knives with straight cut.
Not suitable for serrated knives.
Developed in Germany. The classic - part of the WMF selection for more than 30 years.
Product description
Ob beim Hobby- oder Profikoch: Ein Wetzstahl darf in keiner Küche fehlen. Denn richtig und regelmäßig angewandt, verlängert er die Lebensdauer Ihrer Messer deutlich. Anders als Messerschärfer kommen Wetzstähle hauptsächlich bei leicht stumpfen Messern zum Einsatz. Entscheidend für die richtige Verwendung eines Wetzstahls ist seine Oberfläche. Glatte Wetzstähle begradigen leicht gebogene Klingen, raue Modelle schärfen die Messer, indem bei jedem Zug über den Wetzstahl ein wenig von der Klinge abgetragen und diese zusätzlich wieder aufgerichtet wird. Tipp: Zum Schärfen von Messern mit sehr harten Klingen wie zum Beispiel den japanischen Modellen verwenden Sie bitte einen Schleifstein. Ein Wetzstahl ist für diese Messer ungeeignet, da die Klingen in einem speziellen Verfahren gehärtet werden.
Spitzenscharfe Klingen, Griffe, die sich anfühlen, als wären Sie nur für Ihre Hand gemacht, und eine Messervielfalt, die ihresgleichen sucht: Die Kollektion Spitzenklasse Plus ist der Klassiker unter den WMF Messern. Ihre aktualisierte Ausführung erfreut mit abgerundeten Griffkanten, wodurch die Messer noch besser in der Hand liegen. Die fugenlose Verarbeitung der Griffe und ein geschmiedeter Kropf für die richtige Balance sorgen für ein sauberes, sicheres und zuverlässiges Arbeiten. Die Kollektion ist überaus vielfältig und bietet für jeden Koch und jede Zutat ein geeignetes Messer: von Klassikern wie Koch-, Allzweck- und Gemüsemessern mit unterschiedlichen Klingenlängen über chinesische Koch- und Hackmesser in verschiedenen Ausführungen bis hin zu Santoku- und Steakmessern. So macht Vorbereiten Spaß!
Specifications
| | |
| --- | --- |
| SKU: | 3201000254 |
| Alte Art. Nr.: | 18.9594.6030 |
| EAN | 4000530504173 |
| Brand | WMF |
| Collection | Spitzenklasse Plus |
| Size sets | 1-pc. |
| Material | Special blade steel, forged |
| Product properties | Performance Cut |
| Length (cm) | 36 |
| Width (cm) | 36 |
| Height (cm) | 2 |
| Blade-length (cm) | 23 |
| Color | black, stainless steel |
| Care | Wash by hand |
Performance Cut
WMF Performance Cut Technology
Cut for as long as you want. Your knife always stays uniquely sharp.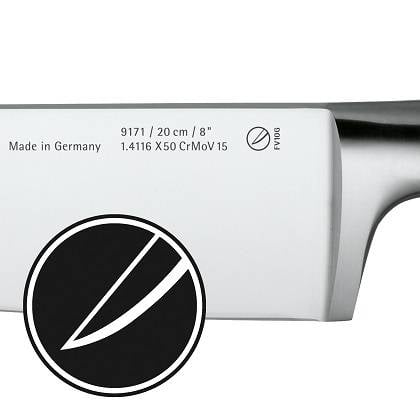 What does Performance Cut Technology mean?
It is the combination of the traditional forging process with the latest precision technology. It is, for instance, a new, innovative finishing of the steel and a high-precision sharpening process of the blades. This results in knives with an optimal cutting angle, which remain sharp for an unbelievably long time.
Cut for as long as you want. Your knife always stays uniquely sharp.
Performance Cut combines traditional forging methods with the latest developments in precision technology.

Performance Cut technology for outstanding and long-lasting sharpness.

Blades made of forged special blade steel.

Sturdy and corrosion-resistant.
Traditional forging craft and the latest 'Made in Germany' technology
Traditional forging craft and the latest 'Made in Germany' technology
WMF follows the tradition of cutlers and uses particular care for this craft. From 2014, the company will combine the traditional art of forging with the latest precision technology in manufacturing. Tests show that WMF household knives that are made with this Performance Cut Technology exceed the standard for cutting performance by double.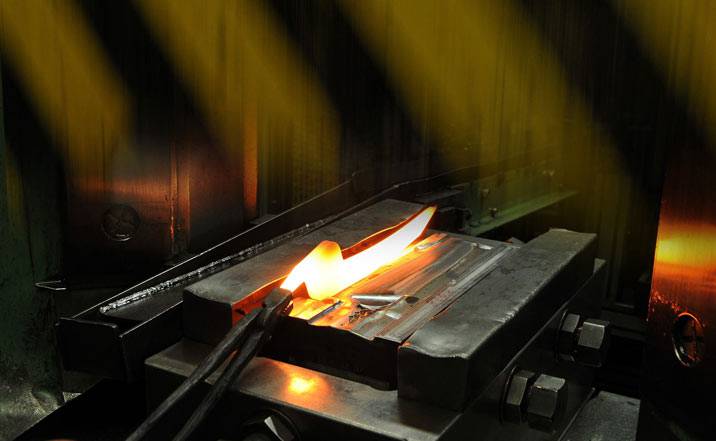 In Hayingen, a small town in the middle of the Swabian Alb, WMF operates one of the largest blade forges in Germany. Annually, hundreds of thousands of knives are made in the company's own factory according to the traditional drop forging process. In this process, blades made of special blade steel are worked over the whole length with the forging hammer. About 30 work steps are required before the customer is holding a knife of the highest quality in their hands: From the examination of the raw material to the packaging and shipping of the knife.
Every work step is subject to strict quality controls. Only in this way can WMF ensure the high quality standard at every phase of the manufacturing process. The result is 'Made in Germany' knife blades that are phenomenally sharp, precise in their cut and retain their cutting performance for a long time.
Performance Cut Technology WMF knife series
View Reviews (0)

Your review